Have you ever wondered if and how you can improve your sales performance using technology? This blog aims to give you some insight.
Statistic 1:
98% of sales leaders report their businesses will be disrupted by the pandemic by over five sales quarters.
Uncertainty, changes in buying behaviour and new ways of working will all contribute to the disruption predicted.
Ensuring your sales team has access to the business-critical operational systems, any time, anywhere, any place allows for flexible working no matter what happens. Furthermore, hosted systems support your business continuity plans so if you haven't considered hosting already, now is the time.
It's also worth reviewing how your sales team sells. We're moving more and more towards virtual selling as opposed to face-to-face selling. So, previous techniques and processes may no longer be as effective. You need to ensure there are higher levels of digital engagements and consider introducing new sales management practices.
Managing a remote or hybrid sales force also requires some thought. No one wants to micro-manage as it's time consuming and demoralising for all involved. Instead, have dashboards, KPIs and analytical reports set up. This will highlight areas that require attention.
Perhaps there's a high value deal that's been stuck at a particular stage in the sales cycle that you can collaborate on to push it over the line? Or what about an uneven distribution of accounts across your sales team?
So what is a dashboard and how can it help you? And why should you analyse data with Business Intelligence (BI)?
Statistic 2:
High-performing sales teams use nearly three times the amount of sales technology than underperforming teams.
You don't have to use all the features of a technology product like CRM or Outlook. However, you do have to get the benefits you need in an effective way. When reviewing your sales tools, you should first evaluate what your needs actually are.
For example, do you need a more efficient contract renewal process or quote generation process, like Restore Datashred did? Perhaps you could benefit from a middleware solution? This pulls together your various business software into a streamlined solution.
When reviewing individual software solutions, such as CRM, you should consider the benefits and challenges.
The trifactor for success is often quoted as "People – Process – Technology". Having the right people doing the right processes will ensure your business achieves significant gains from technology.
If you have the right people doing the wrong processes or using the wrong technology, then more things will be done incorrectly.
That said, technology is only one cog, so you need to know how to get the best return from it – this is often through your trusted technology partner.
Statistic 3:
High performing sales teams 4x more likely to use predictive analytics.
Being able to view and understand your pipeline has to be a fundamental requirement when reviewing your sales performance, whether as an individual or as a collective. But how do you identify ways to improve your sales performance?
Cue predictive analytics tools, such as Power BI. This brings the predictive power of advanced analytics, allowing users to create predictive models from their data. Power BI enables organisations to make data-based decisions across all aspects of their business.
Use sales analytics to identify behaviour patterns in your customers and prospects in order to make future sales predictions by:
Gaining customer insights
Understanding sales performance
Enabling targeted sales content
Reviewing competitive intelligence.
Statistic 4:
42% of sales people take 10 months or longer to become productive enough to contribute to company goals.
The recruitment process takes a lot of time and effort. Before you look for the right candidate, carefully define the goals for "what this person is supposed to be doing". You may already have the systems in place, or you may need to find a suitable solution. But, putting in the groundwork ahead of their induction will help them become effective more quickly.
If you're looking for someone to blitz through a list of leads, get your call list in a CRM system and connected to your phone system. This allows them to dial and log notes quickly and easily.
If you're looking for an account manager, ensure they have access to all the information they need at the click of a mouse. Linking up your CRM system with your financial/ERP system ensures information like customer spend, outstanding quotes and active contracts can be accessed from a single place.
On the after-sales side, if you're looking for a customer service representative, ensure they can access and search your knowledge base of known issues and FAQs with ease. This ensures they deliver exceptional customer service from the get go!
Statistic 5:
39% of a sales person's time is spent selling or interacting with prospects and customers only.
As they say, time is money. So make sure you continually evolve your systems to reduce repetitive and manual entry. This ensures your sales team is spending their time efficiently and increases their time spent with prospects and customers.
Look for areas they are entering the same information multiple times e.g. in CRM, in ERP, in their pipeline, in KPI reports. The other great place to look for time saving solutions is anything that can be automated. For example, sending a reminder 30 days after a quote has been raised if it hasn't been converted to an order.
This case study shows how Avrion helped Priors Hall Park Management streamline their annual invoicing process by bolting Maximizer CRM onto Sage 50. They then automated the process using Codeless Platforms' BPA Platform. The time taken to create and process invoices has been massively reduced from around 10 days to 2.
Also, evolving with your customers, working out what will improve their performance and is beneficial to them will improve your retention rates.
We all know the mantra that it's easier to retain a customer than acquire a new one. Do you regularly review your customer satisfaction levels to ensure your customers are happy? Or identify customers who cancel their contracts or reduce their spending with you?
There are plenty of survey tools out there. But, one that connects to your CRM system is your best choice, like Survey Mechanics. This makes the process of identifying a target list and sending a survey much quicker and easier.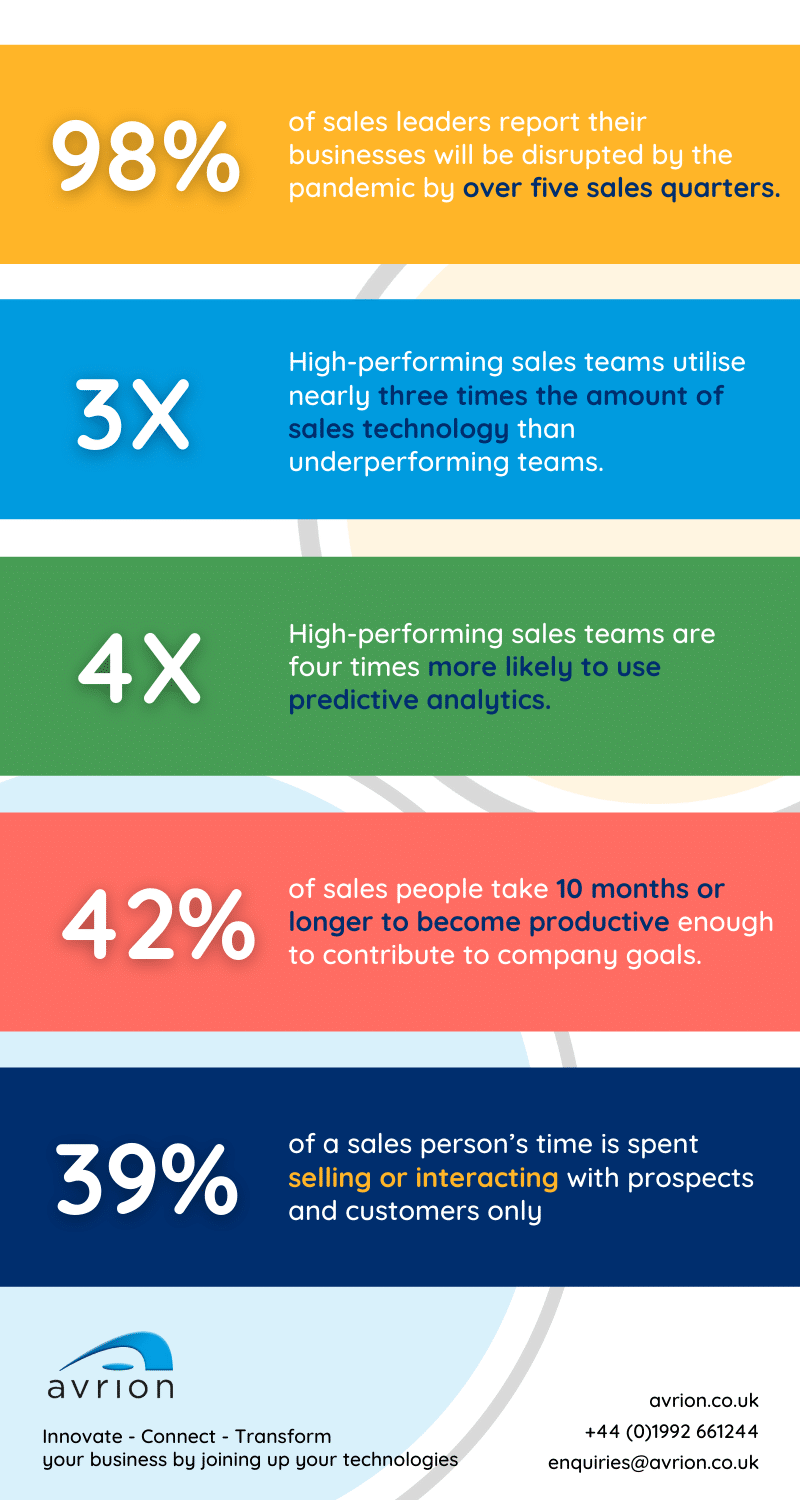 So, as you can see, knowing how you can improve your sales performance using technology could be a huge benefit to your business. It's well worth putting the effort in so you can reap the rewards.
Further information
If you'd like to learn more about how you can improve your sales performance using technology, talk to us to discuss your business challenges.