We create many 'connectors', enabling our customers to join up information easily between CRM and their other operational software systems.
We use our extensive portfolio of connector frameworks, customisations and middleware applications to build connectors, which means customers invest less and get more value, with shortened delivery timescales.
For example, we have built financial connectors that work in the same way as our Sage Data Financials Connector but with alternative financial software packages.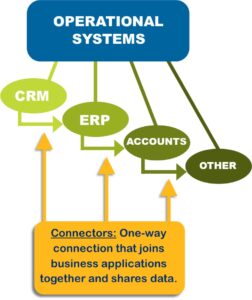 Applications of Customised Connectors
Typical Connectors our customers require include: