CRM allows you and your team to nurture relationships at all stages of the customer journey, offering them a more engaging and consistent experience with you. CRM also makes you more efficient because:
Your data is unified, better organised and transparent throughout your organisation, which means everyone can view and act upon necessary actions.
You can automate tasks and streamline processes, which minimises errors, improves efficiency and saves time.
It's easy to communicate with your contacts through automated marketing campaigns, through alerts that remind you to keep in touch with people and through a structured customer service support system.
You can analyse your data, allowing you to grow and focus on relationships that matter, thereby improving your bottom line.
But CRM is seldom a straight out-of-the-box solution. Instances where a little helping hand is needed in order to create the perfect setup for you include:
Customisation. This means adapting off-the-shelf CRM software in ways to fully tailor the solution to your business.
Data Connectors. If you have multiple core business critical systems, such as financial packages, ERP etc. it might make sense to view shared data from within your CRM solution by securely managing the data flow between these applications.
Integration. This typically enhances the capability and value of existing systems, and can negate the need to replace them as integration enables all systems to work together.
CRM isn't a static bit of software that doesn't change over time either. CRM must be shaped to fit your unique business requirements, and flexible enough to develop and grow as your business evolves. CRM, when set up properly and used correctly, will reap many operational, financial and business rewards for your team.
We've highlighted some interesting statistics that may help you understand how CRM has benefited businesses as well, as what the challenges can be. Being aware of both sides of the coin – the benefits as well as the challenges – will help you decide what's best for you, including choice of software,
customisation
options,
deployment
methods and
ongoing support
.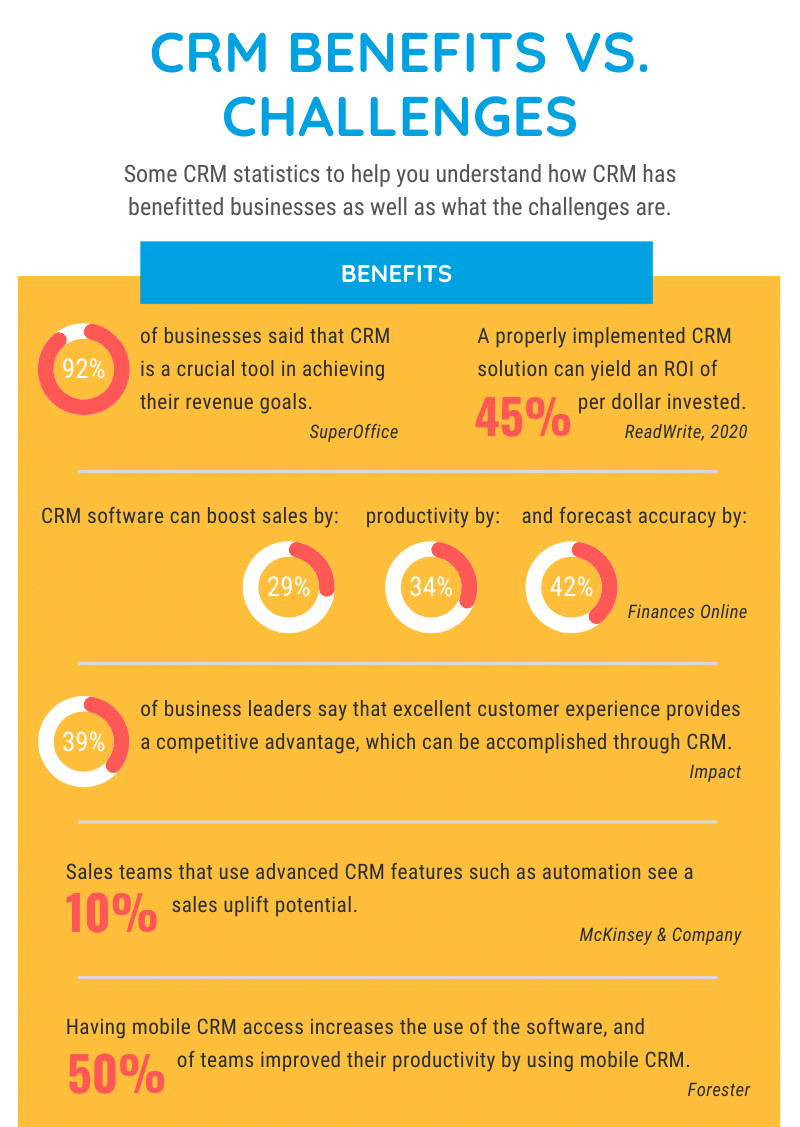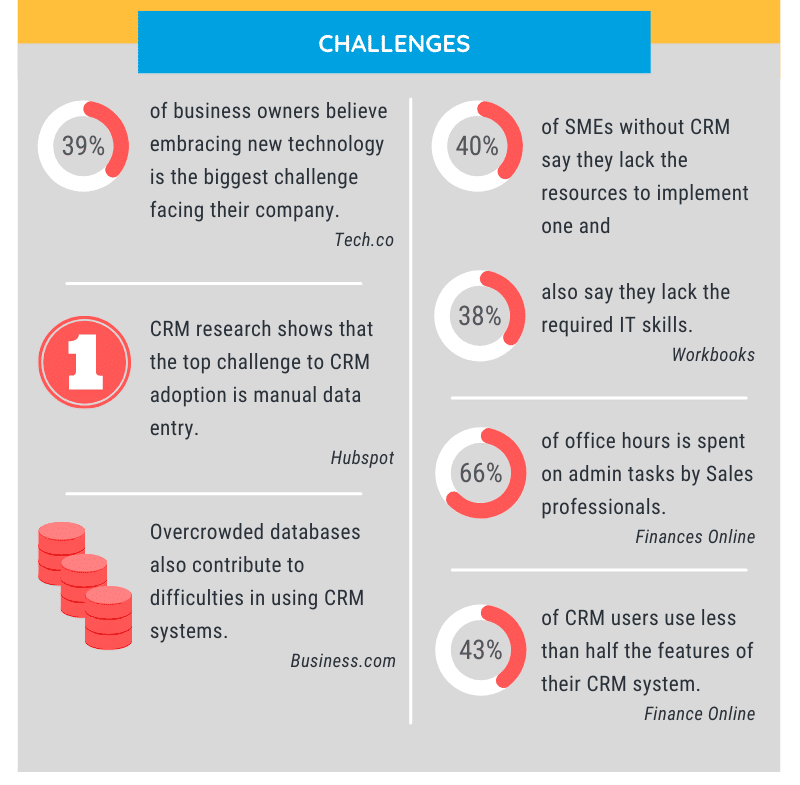 CRM for companies of any size
Size does not matter when it comes to CRM.
It can benefit small businesses with one user right up to large multi-site corporations with hundreds of users. Here are some benefits across the spectrum:
Small Business : 1 – 5 users
CRM can store all your leads, prospects and customer information in one place. No more spreadsheets, notes and other bits of information stored in disparate places.
Integrate your CRM with your email to save communications quickly and simply for easy retrieval when you need them.
Ensure you have current and relevant data to hand. Used correctly, CRM will always be your hub with the latest data.
Your marketing, customer service, sales opportunities and financial information can be logged and controlled here too.
Mid-size Business : 5 – 50 users 
CRM can rationalise your data, maximise your customer base and help you adhere to your industry's compliance requirements.
CRM helps your business run smoothly – with transparency of information, users can easily pick up from where others have left off.
It will enhance your sales processes, management reporting, customer services, marketing and more, through workflows and dashboards.
You can create detailed customisation for your business to suit your unique needs.
You can integrate with other key finance or operational software to enhance your business processes even more.
Large Business : 50+ users
Large companies can inherently be disjointed and siloed with geographical and product based differences. A CRM system can therefore help unify the business with a joined up picture of leads, prospects, customers, distributors and suppliers.
It can assist when, due to acquisition, companies have data on different operational and financial systems.
CRM is flexible enough to allow for deeper integration to other business critical software and automation of repetitive processes, which ensures optimal business efficiency and profitability.
The benefits of CRM are significant, but getting it right to start with will save you time and money. Get in touch with us – together we can outline your business objectives so that we can select, configure and support the best CRM solution for you.