Last week we discussed Apps and Data Connectors. Sometimes, you need more than just a data connector if you want to actually share data between multiple software applications. This is where you would benefit from integrating systems. For example, you may want to:
Create a Quote in CRM but to do so, you need to get the product code information from your account system along with other information that impacts the quote, such as the customer's VAT settings and perhaps agreed discounts.


Convert a Quote automatically from CRM to a Sales Order in your accounts/back office system and be able to view the status of the Sales Order related to the quote within CRM.


Integrate your CRM and Marketing software to synchronise subscriber records between the two systems. For example, new subscribers get automatically added into CRM, or account managers can tag a new customer so that an onboarding campaign can be sent.



Integrate your eCommerce system with your CRM and accounts/back office system

to seamlessly process orders, whilst gaining full visibility of customer orders within your CRM sales pipeline.
What are the benefits of integrating software systems?
Integrations typically enhance the capability and value of existing systems. The key benefit of integration relates to efficiency, consistency and accuracy of how you manage and process information throughout your business. This is a form of digital transformation, helping companies to work faster and smarter in order to better serve their customers.
How do you integrate systems?
Integrations range from simple to complex, depending on what you are trying to achieve. They involve using APIs, which can also be referred to as "end points" or "web services", already made available by the software package vendor. Sometimes, these APIs are missing the right functionality to complete an integration project, and some software packages do not have APIs at all. This might mean having to create new APIs, or finding ways to work around this using existing APIs in order to complete the integration project.
This is where your technology partner, with seasoned software developers, is worth their weight in gold. For example, the team at Avrion has built an extensive library of integration tools, gained from completing countless integrations with customers.
Our software developers can quickly deliver integration solutions, regardless of the complexity involved, and we do this in an efficient and cost-effective way. We even use off-the-shelf software, such as BPA, with pre-built API connectors, which means our wider Technical Team can complete integration projects as well. As time evolves and business practices change, these existing integrations can be quickly adapted, ensuring the company's digital transformation strategy remains effective.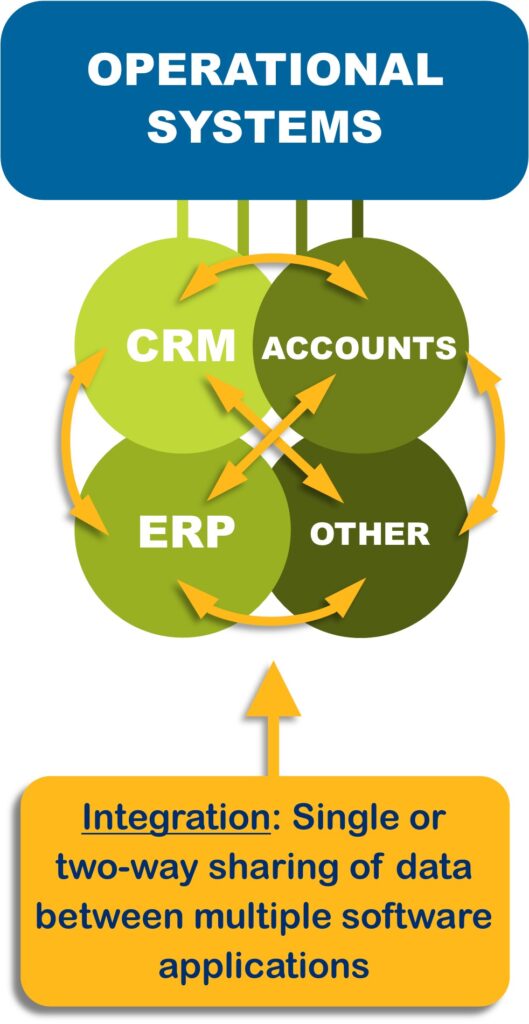 Integration as part of your digital transformation strategy
So, as part of your digital transformation strategy, the use of integration can be a powerful solution. Integrations can negate the need to replace existing systems as they typically enable all systems to work together. This mostly means less cost and upheaval involved with implementing and learning new systems. For the users, it means low to zero data entry duplication, creating better efficiency and, for the business, a seamless way to automate information flow throughout the organisation.
If you'd like help with integrating your systems together so that you can benefit from greater efficiency, consistency and accuracy throughout your business, contact us today.