Microsoft Power BI is recognised as a leader in the analytics and business intelligence arena. It enables companies to visualise their data in ways that help them to understand and gain deeper insights about the business.
Power BI consolidates your data into dashboard-style reports, where you can then use filters and other options that dynamically change the content and format of the information you're viewing.
Microsoft Power BI is an application enabling companies to view their data using interactive and graphical tools. The solution is made up of three main components:
Collation of Data (data sources and data collection)
Cubing of Data ready for Power BI (data preparation)
Presenting data within Workspaces (interactive dashboards).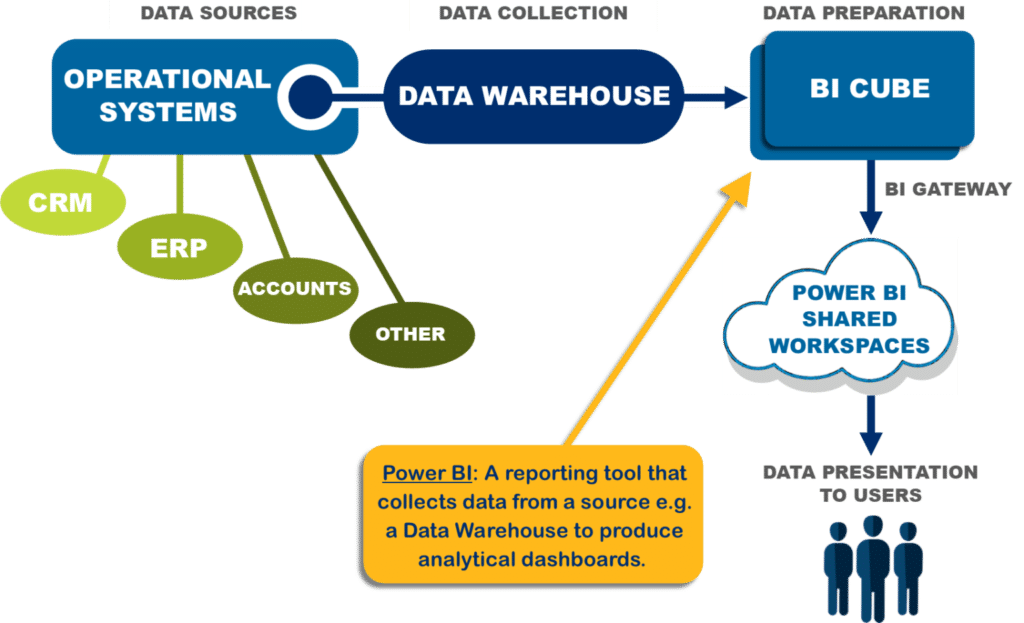 "I'm using Power BI a lot more now than I did when we started with creating refreshable dashboards for SLT and other management levels showing different elements of the business. We are doing this by implementing the data warehouse built by Avrion, which is very handy. I love Power BI and think it is such a great tool that every business can have/use as it turns your raw data into a story that shows different aspects from the company over time."
Our solutions usually involve creating a data warehouse which acts as the 'brain' of the solution. It can bring together data from many separate software applications and resides on your server (on premises or within our private hosted clouds). We use a SQL database, but other databases can be used if you do not have a SQL server.
We use SQL tools for extracting the raw data from your databases e.g. accounts, CRM etc. For Power BI reporting, the data is generally extracted daily but may be more frequent, especially if the data warehouse is used for other tasks e.g. updating a customer portal.
Within the data warehouse, we structure the data to perform various tasks, such as joining the multiple data sources together, standardising data formats and appending other data values that do not exist in the original data sources. We then use SQL to prepare the data, creating data cubes that can be consumed by the Microsoft Power BI application.
The Microsoft Power BI Gateway is used to send the data cubes to the Microsoft platform. Either we, or you, can then access the data to create Workspaces, which are customised dashboards for viewing and analysing data. Typically, we create the initial workspaces, then our customers learn how to update the workspaces themselves. Workspaces can be shared between multiple staff.
Power BI is really easy to attain and implement and has so many useful purposes. To learn more about this, check out our blog which talks about why Business Intelligence is a great thing to have. Plus, you'll find some great examples of what a Power BI workspace could look like. You'll be amazed at what you can achieve!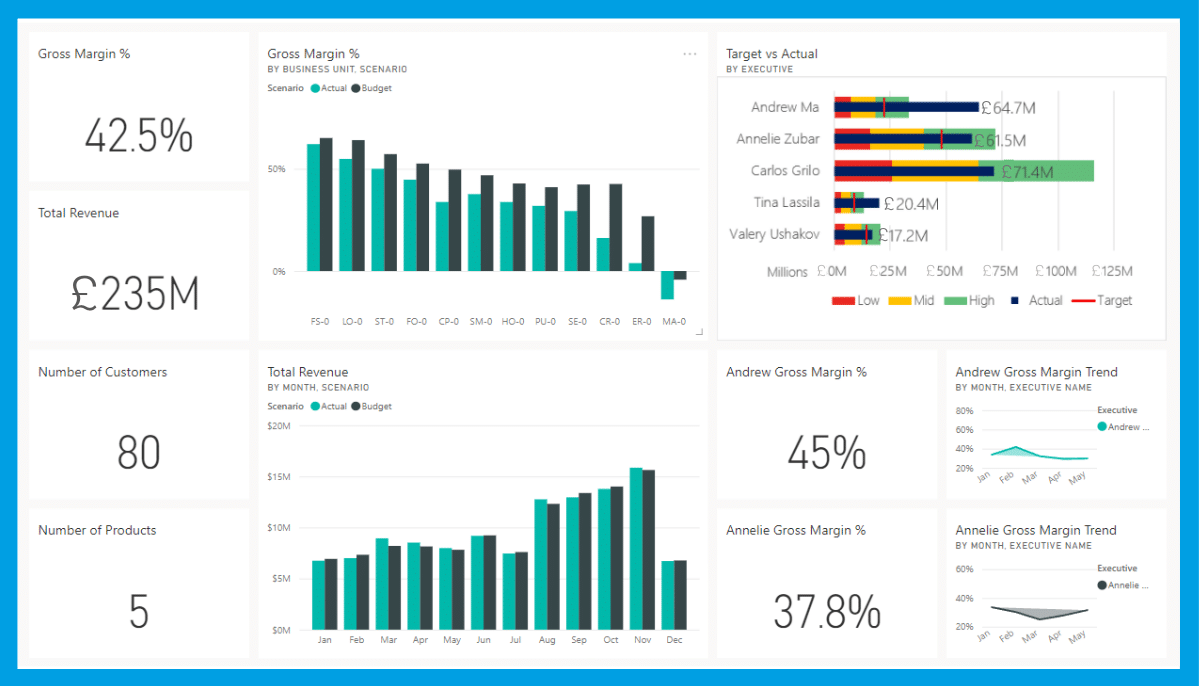 Whilst the Data Warehouse is primarily designed to deliver data for Microsoft Power BI consumption, it can also be expanded to do much more. For example, the data warehouse could be used:
As a centralised reporting suite for managers to access and run reports (including sending alert-orientated reports to management based on data events)
For updating a customer portal, enabling customers to view order history online. Data can also be extracted from a portal and fed into an operating system e.g. a customer quote request or a customer online order, which then creates a customer Opportunity in the CRM system
For creating campaign lists based on customer behaviour and passing this to an email automation tool such as Mailchimp or dotdigital in order to add the customer to a targeted email campaign.