Software packages, such as CRM, are designed to provide a plethora of features in order to attract many customers to buy their software. They also often include additional functionality found in other software packages, in order to compete favourably when compared with other software vendors. The result is an abundance of features and, because of this, most packages offer comprehensive configuration options/settings, enabling customers to tailor their solution for a better fit with their business. However, the downside can be having to work within the constraints of the software i.e. changing your business processes to fit with how the software works.
Enhancing software through customisation
To get around these constraints, you might consider customising a software package, especially if the package supports this capability.
Software customisation is about changing how parts of the software works.
Customising software might range from changing existing screens or adding new ones (UI – user interface) to creating new functionality or automating how data is processed. In essence, customisation helps organisations adapt off-the-shelf software packages in ways to fully tailor their solution in line their business.
Although many software packages have the ability to customise their software, this often requires technical/development skills to complete. Your IT department may have these skills, but unless they have a deep knowledge of the software and its capabilities, as well as its limitations, then a technology partner may be better placed to do this.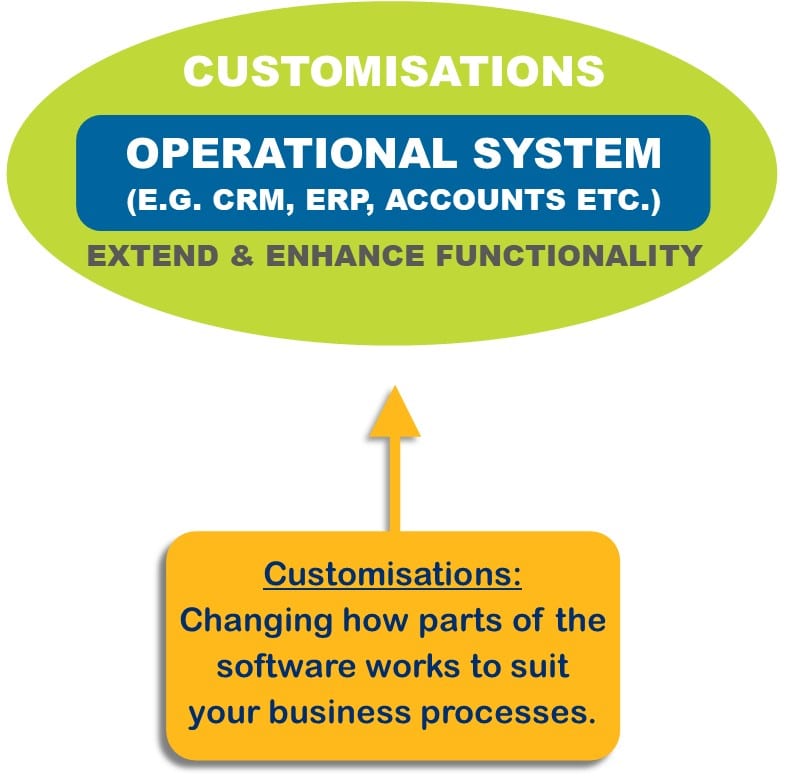 Identifying what you need and how best to customise the software is a prerequisite for any successful customisation project, and this is an area an experienced technology partner can help with. And because of their knowledge and experience, they can typically deliver the project quickly and in a cost effective way.
Examples of CRM customisations
Here are some examples of where companies might customise their CRM software:
Using iFrames to show information from other systems, linked to a CRM record. An iFrame is a technology used to embed content that is usually held in another system. For example, you could use an iFrame to display sales invoices relating to a customer in CRM, but where the underlying transaction data is coming from the accounts system. Features and tools can be built into the iFrame, enabling you to do more with this data. They are mostly quick to create and easy to maintain. There are many scenarios where an iFrame is a really effective way of customising your software.
Amending or replacing data entry screens: An existing data entry screen may have "standard" fields that are irrelevant to the way you want to use the software. To avoid confusion with users knowing which fields to use, you can customise these data entry screens by removing unwanted fields. You can even add other fields, further customising how you use the software. Tailoring data entry screens is a good way to streamline your business processes and simplify user experience.
Creating additional functionality: Most businesses have disparate systems, using tools such as Excel to manage other lists of information. You could customise your software by creating an 'entity' that replaces these disparate systems. An entity is like a database with features and functionality built within your existing software, and designed to work as if it is a core part of your existing software.
Examples of entities are:
Recording and managing assets belonging to a customer e.g. equipment and machines
Assigning Warranty and Service records relating to customer purchases
A Real Estate database, managing properties and associating them to CRM records.
Adding value to your software systems
Using customised entities to extend the functionality of your existing software adds considerable value to your overall solution in terms of increased efficiency, reduced errors and better user adoption. It also removes the need to manage multiple, disparate systems.
As a technology partner, we have built a framework enabling us to build custom entities quickly that work with our software packages. And quick means cost effective too! Furthermore, our framework has been done in a way that enables you to seamlessly upgrade your software package as new versions become available, whilst keeping your customisations.
Other ways to join up your systems
If you'd like help with customising your CRM system to suit the way your business is run, contact us today.