Improve Operational Efficiency – automate processes in CRM
Sage Financials adds a field called Last Invoice Date making it possible to view customers who haven't bought anything in the last 90 days. This encourages proactive account management.


Maximizer CRM has a system field called Date Last Contacted. This helps you to identify customers who have a Last Invoice Date in the last 5 days and a Date Last Contacted older than 5 days. This ensures that Account Managers call customers within 5 days of them placing an order.


SQL Triggers can be created to keep key fields updated, thereby maintaining good data quality. For example:



If a customer has a Last Invoice Date in the last year, set the Category to Active Customer.


If a customer has a Last Invoice Date older than the last year, set the Category to Lapsed Customer.
Reduce Trading Risks – customer debtors exposed within CRM
As the data is updated daily, you can quickly identify any customer accounts put On Hold, In Liquidation and so on. This means you can quickly check their open Opportunities, upcoming contract renewals and outstanding payments.


Additional fields, such as Available Credit, can be created and set to calculate the Balance minus the Credit Limit automatically. Having this figure at your fingertips when discussing potential business to see if anyone is approaching/exceeding their credit limit is very handy indeed.


Similarly, use the Last Payment Date field to chase up late payers to reduce your exposure to bad debt.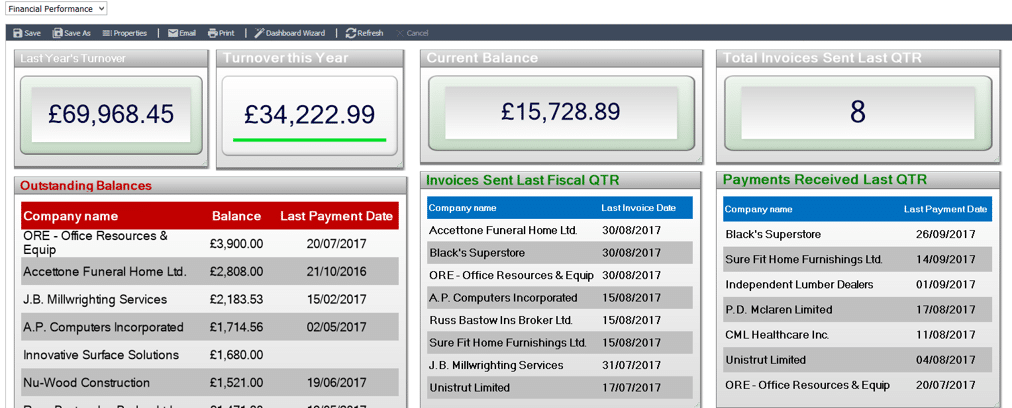 Accurate Customer Analysis – join CRM data with financial data for searching, grouping, dashboards and reporting
Analyse the Turnover YTD field to identify your Top 10 customers, customers who spend over a certain threshold or low spending customers that could do with some nurturing.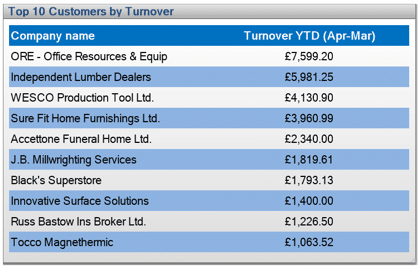 Analyse the Monthly Invoice Values to spot any spending trends across individual customers, as well as your whole customer base. Plus, identify customers purchasing in any given month so that post-sales calls can be made or campaigns can be run.


Review Turnover YTD by Account Manager for some friendly inter-company competition or to identify any account managers needing some coaching.


Account Managers or Credit Control can work through a list of customers with an outstanding Balance, whose Last Payment Date was over 30/60/90 days ago.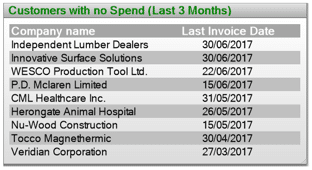 Financial systems don't often have fields such as industry sector, sales region/territory etc. With the financial data now sitting within Maximizer CRM, you can view your Turnover YTD/Turnover Previous Year by Industry/Region. Perhaps you are more successful in particular industries/regions than you realised! This will help you focus your products/services on these more profitable areas.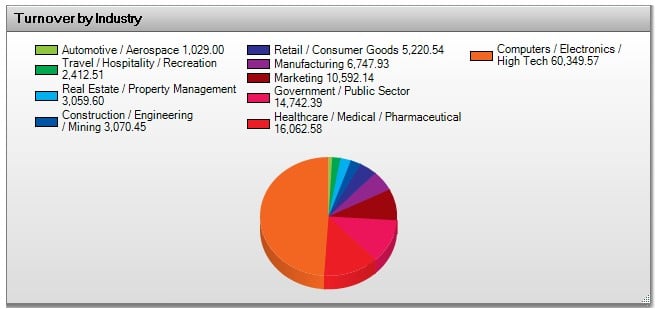 Avrion's Sage Financials Data Connector is available for both Sage 50 and Sage 200. More editions, like Sage Accounting, are in the pipeline. Take a look at our video, which describes the functionality and then pop to our Apps Store to get connected:
When you integrate financial systems with CRM, you enhance your view of your customers. We hope we've given you some useful ideas for increasing your business' efficiency by showing you how to connect Sage Financials with Maximizer CRM.
Please contact us if you'd like to know more.