Avrion is excited to unveil the game-changing innovation, MaxAI, from Maximizer – a true pioneer in the CRM arena. Following their announcement on 9th August 2023, MaxAI is set to redefine the landscape of sales leadership and efficiency.
MaxAI heralds a new era of sales empowerment, providing sales leaders with the tools to guide and mentor their teams towards unparalleled success. Unlike traditional CRM AI solutions, MaxAI prioritises human insight in its decision-making process, aiming to empower salespeople rather than replace them. By merging cutting-edge AI technologies with the expertise of seasoned sales professionals, MaxAI seeks to revolutionise how sales teams engage with prospects and foster meaningful relationships.
We are delighted to share that MaxAI's initial AI capabilities are now accessible through the Maximizer Sales Leader Edition. This revolutionary feature takes the form of an advanced playbook, meticulously designed to equip individual salespeople with a comprehensive set of strategic questions and conversation starters, tailored for every phase of the sales cycle. Seamlessly integrated into Maximizer's Opps Viewer, this tool provides salespeople with real-time guidance on tailored questions to pose to prospects, complemented by a range of insightful sub-questions designed to refine discussions.
One of the standout features of MaxAI is its steadfast commitment to preserving the indispensable role of sales professionals in the decision-making process. While harnessing the power of AI, MaxAI ensures that salespeople retain the authority to choose questions that resonate with their unique style. This approach upholds the authenticity of the sales relationship, differentiating MaxAI from tools that rely on a more generic communication strategy.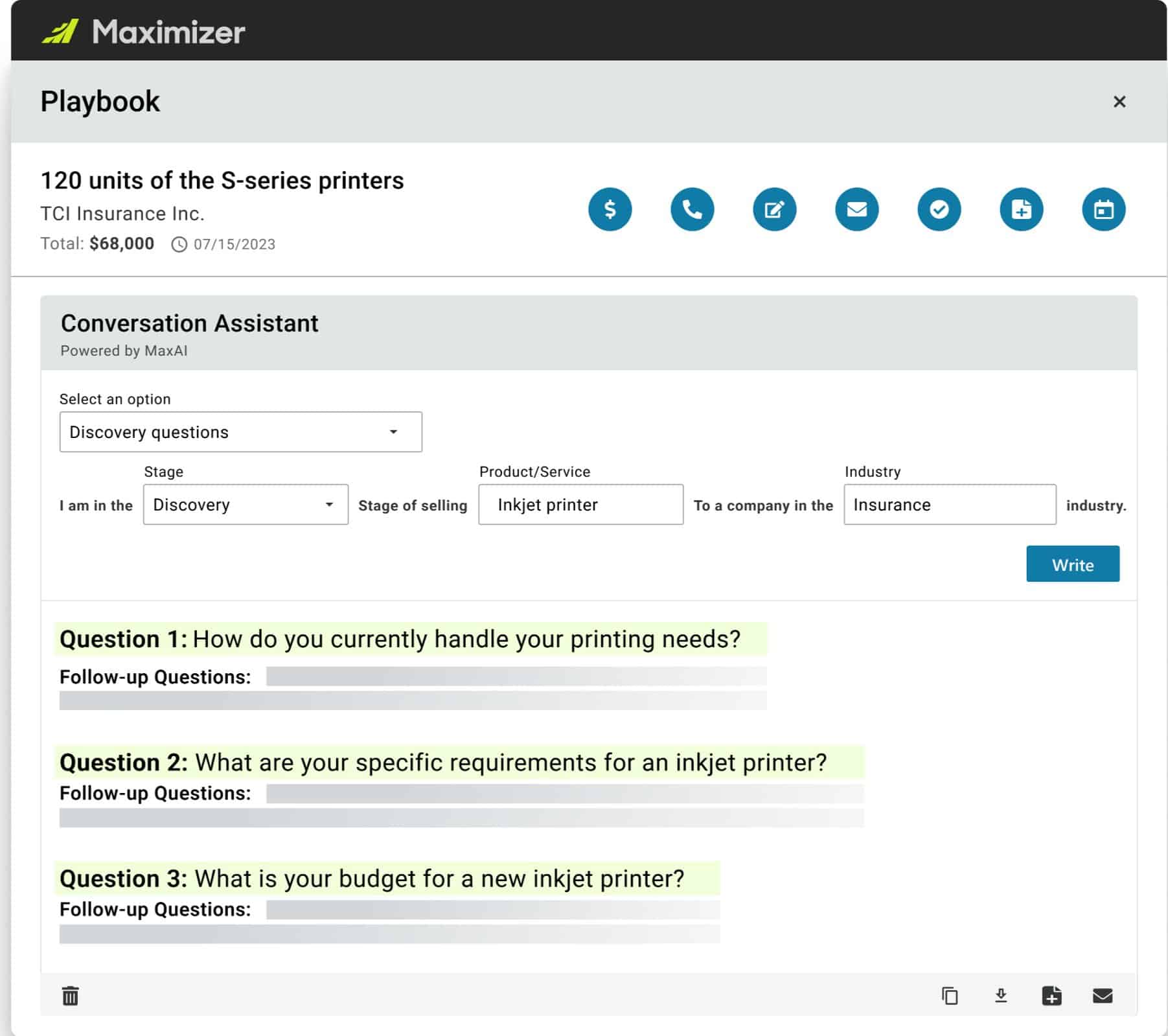 MaxAI's remarkable personalisation capability lies in its ability to seamlessly merge AI's understanding of the prospect's industry, products, and services with the salesperson's contextual comprehension of the deal's current stage. This seamless integration empowers MaxAI to propose precise questions that resonate strongly with prospects, culminating in a sales process that feels tailor-made and exceptionally relevant.
Watch the video below to see it in action:
Iain Black, CEO at Maximizer, reinforces the company's core philosophy: "At Maximizer, we firmly believe that sales is a business of people. Our mission in deploying MaxAI is to empower and improve sales professionals, not replace them. Our introduction of MaxAI marks a significant shift in the CRM landscape, as we leverage AI to support and elevate the skills of authentic and capable sales teams without surrendering the responsibility or control of basic human interaction."
MaxAI delivers an unprecedented boost to sales team efficiency, rapidly identifying relevant discussion questions in a matter of seconds. This transformative addition stands as the first AI-powered feature seamlessly integrated into Maximizer's renowned CRM. With MaxAI, the goal is to empower salespeople, allowing them to streamline routine tasks and allocate more time to nurturing relationships and driving sales.
Embark on a journey of innovation, where the potential of AI is harnessed to augment the capabilities of sales professionals, ushering in a new era of CRM excellence.
If you have any questions, feel free to contact us.