In computing, a data warehouse is a central location and permanent storage area for data and information held around your business in different systems. They are used to help companies make better business decisions, having access to all the information from all business systems. They are also used to facilitate systems integration, sharing data between all business applications as well as automating communication between staff, customers, suppliers and/or other external organisations.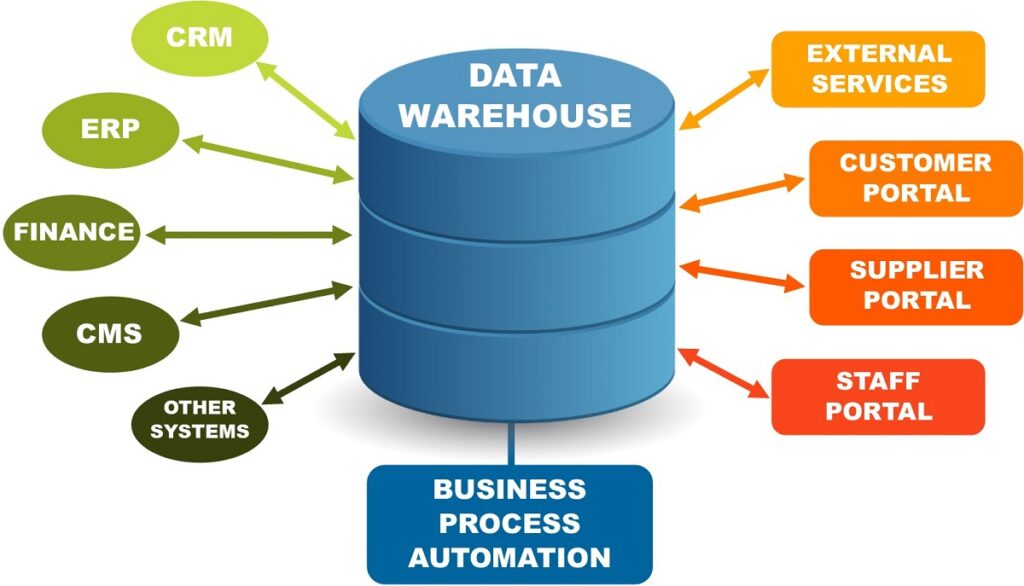 A data warehouse gives you control of your data and your business processes in one place. You can report across many data sets and join this information together. For example, you can merge a CRM customer record with its corresponding finance record and report across all of your customers using both these data sets. Other data sources can be uploaded into a data warehouse, including ERP, e-Commerce shops, public portals, stock management, amongst others. This means you can automate business processes using data held across all your systems.
What are the advantages of a Data Warehouse?
There are many reasons to use a data warehouse in your business. These include:
Keeping all information in a central and secure location
Reporting across all business data; helping to make better informed decisions
Controlling integration between systems; it can act as the conduit for passing information between systems
Monitoring changes to information and then acting upon this e.g. giving people notifications or updating other systems
Being GDPR-compliant by knowing all information you hold about your contacts
Digitalising business processes, removing human intervention when completing data-driven tasks
From a business viewpoint, there are also some hidden benefits associated with the business software systems you choose. Joining up your software systems using a data warehouse simplifies the work involved when replacing these disparate systems. Likewise, it can bring additional functionality to work alongside your existing systems, therefore providing greater flexibility when choosing a new software package for your organisation.
As we move towards a digitalised world, businesses will need to organise their data in ways to make them more competitive. Businesses that digitalise the way they work tend to enjoy greater levels of efficiency, faster ways of working, and ultimately they don't just survive but thrive. A data warehouse is a common component found in these businesses!
How does a Data Warehouse work?
Put simply, a data warehouse is a database that contains all of your business information in a central location. This information mostly originates from other business software systems throughout your organisation and is automatically passed into the data warehouse on a live, nearly live or frequent basis. Once transferred, some of this data undergoes transformation in order to create a consistent set of information. This may include ensuring all date field formats across datasets are consistent, or appending new information that is unavailable within each business software system. For example, your accounts system may not be able to provide statistics such as average invoice value, or organise sales invoices by geographical or industry sector demographics. A data warehouse can calculate and create this data, which can be used and consumed in many ways.
A data warehouse can also act as the conduit for systems' integration. It can pass data from one business software system to another, ensuring information is correctly maintained across the business in a timely and consistent way. In larger companies this is critical, ensuring all staff have the most up to date information within their teams. For smaller companies, this removes the burden of repetitive data administration, freeing up time to concentrate on more proactive activities.
Companies can leverage their business data to their absolute advantage when using a data warehouse. Public-facing portals can be implemented, seamlessly sharing information between the business and its customers and suppliers. These portals can be dynamic – both passing and receiving information – with the data warehouse posting receipts into the relevant business software systems throughout the organisation. This facilitates a joined up approach when working with customers and suppliers, helping to streamline communication as an end-to-end process.
What companies can benefit from the Data Warehouse approach?
All companies can benefit. The creation of a data warehouse environment can be completed in a very quick and cost effective way. A company needing to facilitate systems integration or report across all of their data could use a data warehouse – and this would take only a handful of days' effort to achieve this.
These days, a data warehouse solution is not delivered as a "big" project. It usually starts with tackling a small number of business requirements. It then evolves to include many more functions – driven by what the business actually needs – and these are usually delivered in an agile way. Benefits are therefore realised quickly, returning instant value back to the business at a minimum investment point.
Why is it an important step now?
In the B2B world, data automation is key. To survive and thrive as a business, you should always be looking at ways to digitalise how you operate. A data warehouse could be a fundamental step in your digitalisation journey, supporting your business as it evolves and adapts in order to compete in this digital age. Whilst the future of Artificial Intelligence (AI) is still being defined, the work you do now in digitalising your business will likely position your organisation to be ready to capitalise on this emerging technology.
Further information
Talk to us to find out how some of our customers, such as Restore plc, are using data warehouse technology to support their business. We have many examples of how we are helping our customers in finding ways to streamline and digitalise their business.