A web portal is typically a way to share your business information with people outside of your organisation. For a customer, this might be the ability to view their invoices, past orders and quotes that you have created, as well as membership or subscription information, enabling them to get this information on a self-serve basis. In addition, a web portal can be used to collect information from people outside of your organisation – for example, the ability for your customers or suppliers to log a support ticket, or to request a quotation for supply of goods and services. In summary, a web portal provides businesses with a digital way to communicate with the outside world, saving time for all parties involved. Designed correctly, web portals deliver a valuable user experience (UX), helping you to strengthen your relationship with your customers, suppliers and partners, in a streamlined and efficient way.
Web portal technology can be thought of as a website that a user logs into, with functionality to view and submit information. This information is typically held in your operational systems (CRM, ERP and Accounts system etc.) and is passed between the web portal and your systems using APIs. The web portal is therefore an interface that is securely integrated with your business systems.
Many software packages, such as your CRM and accounting systems, offer out-of-the-box web portals, and some of these provide a level of configuration for you to personalise the portal. Whilst these offer useful functionality, the way they work can sometimes be non-intuitive and therefore arduous for your customers, suppliers and partners to use. Also, you may not be able to personalise the portal to present your brand image in the way you require. This usually results in poor adoption, which means your customers and suppliers rarely use your portal, and your staff are reluctant to promote the portal. In this common circumstance, the opportunity to communicate in an efficient and digital way whilst enhancing how you do business with your customers and suppliers is lost.
What makes a good web portal?
A good web portal solution will give you a competitive advantage and deliver a better way to communicate, as long as you plan properly from the start and map out what the users of the portal require. To achieve this user adoption is king, and the design and usability of the web portal is therefore a fundamental aspect of your project:
Think about what the web portal user needs rather than what you need.
Create user journey maps to discover the desired functionality and methods for using the portal.
Build in your personality and brand into the web portal, helping the web user to easily identify with your business.
Once you have done this, you should then engage with your technology partner, who can then work out what is needed to create the solution and the necessary integrations involved.
Your technology partner should first understand your project. This means knowing why your portal is required, how it needs to work and what it must deliver. The job is to then discover how best to implement your portal solution. We typically explore three areas:
You might have portal functionality already as part of your business system software. We assess the capabilities of this portal (how it works, how it can be customised and integrated, and the level of security in place to protect your information).
How we might use existing portal software at our disposal, such as our Applications Platform technology, developed by Codeless Platforms. We assess how best to create your portal using this software, taking into account the cost involved for maintaining your portal using this software.
How to build your portal using our library of software and tools based on the Angular framework. Whilst this option involves low to zero software cost, the solution does need to be built and this typically involves a longer timescale to deliver your solution.
Choosing the best web portal for your business
The general rule when exploring the above options is that the first option tends to provide the least flexibility, whilst the third option will always be capable of delivering 100% of your requirements. Provided the first option can meet the required user journeys and brand appearance, then this can be a good place to base your portal solution upon. However, most portal projects involve a higher level of personalisation and many companies find their existing portal technologies are not fit for purpose. In this case, we need to look at the other options available.
Our Applications Platform technology is highly customisable, which means we can create portals aligned to the customer journey maps whilst personalising the interface to reflect the brand and style of your organisation. This technology uses a comprehensive API, which means this is typically straightforward to integrate your systems, sharing information between you and your customers / suppliers / partners. When building portals using Applications Platform, we are able to do this in a phased manner, delivering the project in stages. We can add functionality as and when you require and this typically requires low to zero software development skills.
Where your project involves a high level of functionality and customisation, then our portals using the Angular framework is the way to go. Whilst this solution may involve a greater level of software development (cost), there are typically no associated software purchase or software subscription fees. If you have many staff with many more customers / suppliers / partners using the portal, then this technology is likely to be the most cost effective.
Process automation with web portals
Another valuable component to compliment portals relates to automating processes and delivering information to people in a timely way. This might be sending emails to people based on interactions when using the portal, or even perhaps sending SMS messages when certain things have been completed. A request for a quotation, for example, could involve automatically creating a sales opportunity within your CRM system. Or if a customer was to approve a quotation within the portal, then a sales order may need to be created in your ERP system with any CRM opportunity automatically completed and closed. The technology we use for automating processes and sending notifications to people helps companies streamline the way they communicate in a timely and consistent way, while removing the overhead of manual data processing. In a later blog we will be covering business process automation technologies.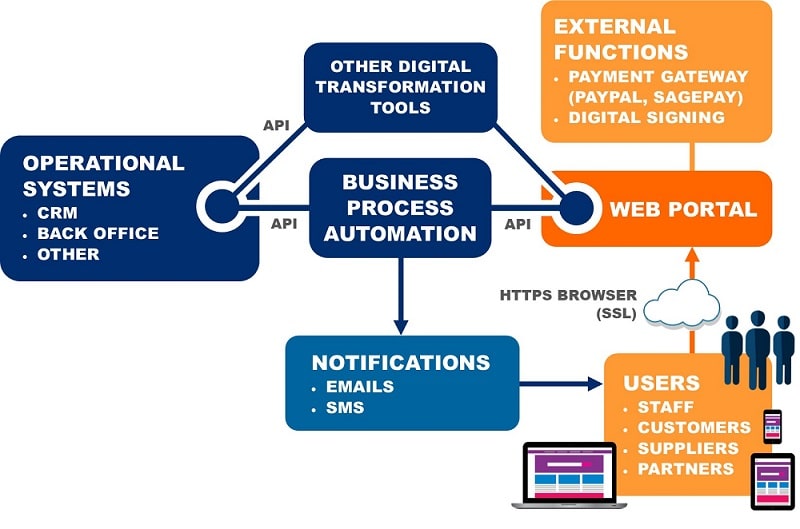 Information (data) is moved between systems using APIs.
Users access the portal securely using a browser on their computer, tablet or phone.
Portals may need external functionality, such as taking card payments (e.g. PayPal or SagePay), or a way for users to digitally sign documents. A good example of this is the Restore Datashred solution where a customer quotation portal was built using digital signing and payment gateways for approving contracts.
In summary, a web portal helps to digitally transform your business, automating how information is processed whilst communicating with your customers in a streamlined, productive and efficient way.
Let's talk about how web portals can help improve your business processes and relationships. We can work with you to help decide which web portal solution is best for your business, for now and as you evolve over time. Contact us today for more information.