In a previous blog we showed you How to Set Up Microsoft Outlook Integration. However, some of the functions on the toolbar, such as Create Contact and Create Case, require some additional configuration in the Outlook settings. If you click on any of these buttons before going through the additional configuration in Outlook, you'll get the following message: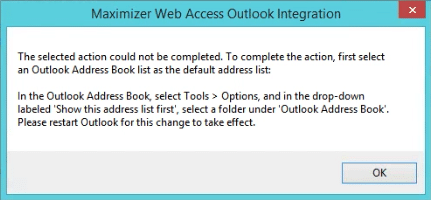 In order to get this working, let's walk you through how to change the required settings in the Outlook Address Book.
First, you need to change the Address Book. From the Home ribbon, select Address Book.
The Address Book: Global Address List dialog will open. From the Tools menu, select Options.

You need to change the order in which Outlook checks address lists. Select the Custom option and move the Contacts item to the top of the list (if not already).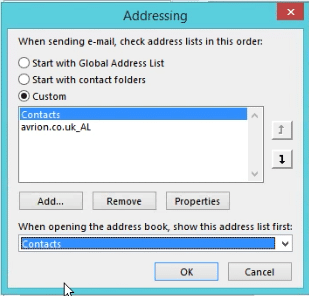 Next, set the When opening the address book, show this address list first value to Outlook Address Book > Contacts. Click OK to save these changes, and then close the dialog box.
Close, then restart Outlook to apply these changes.
Next time you click on the Create Contact option, if the Contact already exists in the database, you will receive a message similar to this:

If the Contact doesn't already exist in the database, the Save Contact to Maximizer Web Access dialog box will appear prepopulated with the information from Outlook: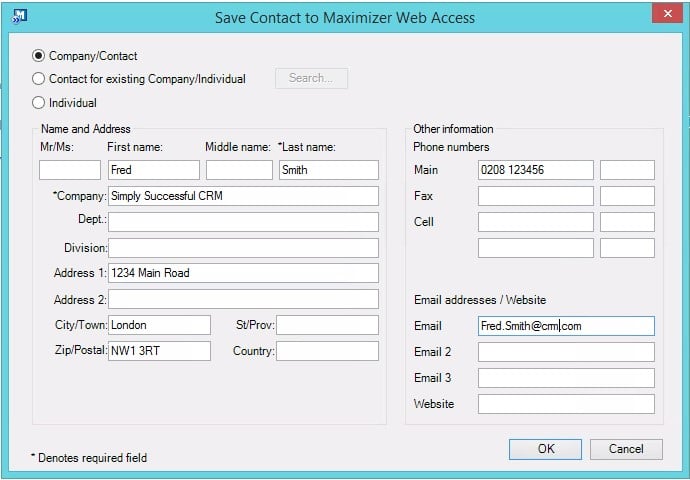 Here's a video of how to set up the additional configuration of the Maximizer Outlook Integration Toolbar:
We hope you find these tutorials useful, but do contact us if you need any help with using Maximizer CRM: