We've got some exciting news – following June's update, July brought another significant update for Maximizer CRM users – the Maximizer CRM Cloud July update!
The main highlight is the new Native Maximizer Connect for Outlook 365 application that's ready to take your communication and productivity game to a whole new level with your favourite email app.
In this blog we focus solely on this fantastic feature update, however you can discover the other enhancements included in the Maximizer CRM Cloud July Update in this separate blog.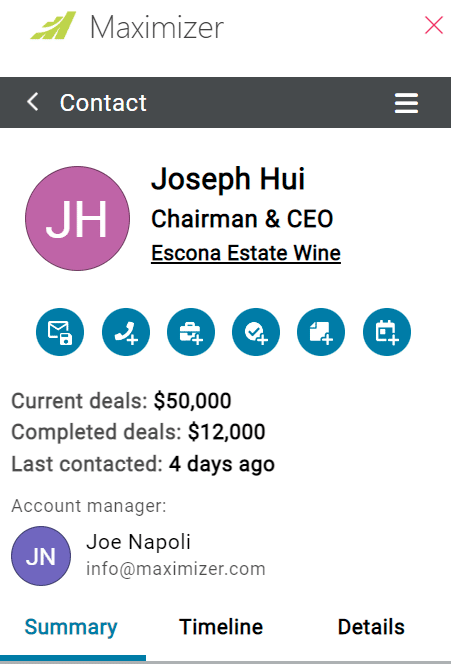 So, what's this new web-based app all about? Let me break it down for you. With the Native Maximizer Connect for Outlook 365 app, you can do lots of new things:
First off, creating contacts, leads, or organisations in Maximizer from an email is so simple! No more going back and forth, simply convert those precious email interactions into valuable Maximizer entries.


Say goodbye to the chaos of managing emails – now you can save email messages directly to Maximizer entries. Keep everything organised and at your fingertips, just the way you like it.


Feeling overwhelmed with tasks and appointments? Fret not! You can now create tasks, appointments, call interactions, and notes in Maximizer, making sure you never miss a beat.


The magic continues! With the new app, you can even create opportunities in Maximizer from your Outlook email messages. That's right, seize those opportunities and watch your deals soar straight from your emails!


And here's something very cool: search for and add Maximizer entries as recipients of outgoing emails in Outlook! Stay connected with your valuable contacts effortlessly.


Oh, and that's not all! Get the lowdown on upcoming activities with up-to-date information, ensuring you never miss an important deadline or event.


Want to dig into your contacts' history? Now, you can view a timeline of historical events on your contacts, keeping you informed and in the loop.


Knowledge is power, isn't that what they say? Retrieve all the current details on your valued customers and prospects – all in one place! Stay informed and stay ahead of the game.


Last but not least, keep track of those sweet deals! The Native Maximizer Connect Outlook 365 app displays opportunity totals on contacts, so you'll know which deals are in progress and which ones are already won.
Head to the Maximizer App Directory to install the new Maximizer Connect for Outlook 365 today. Here's a quick video to show you how:
So there you have it! The Maximizer CRM Cloud July update is here, and we hope you make the most of the new Native Maximizer Connect for Outlook 365 application.
Improve your efficiency, simplify your workflow, and embrace the power of seamless communication. Happy Maximizer-ing!
For more information about this update, see the Maximizer Cloud 2023.7 Release Notes.