Before the pandemic, 65% of employers offered no form of hybrid working to employees; after the pandemic this is expected to fall to 37%. It certainly looks like hybrid working is here to stay. But what does this mean for your business? What are the benefits of hybrid working?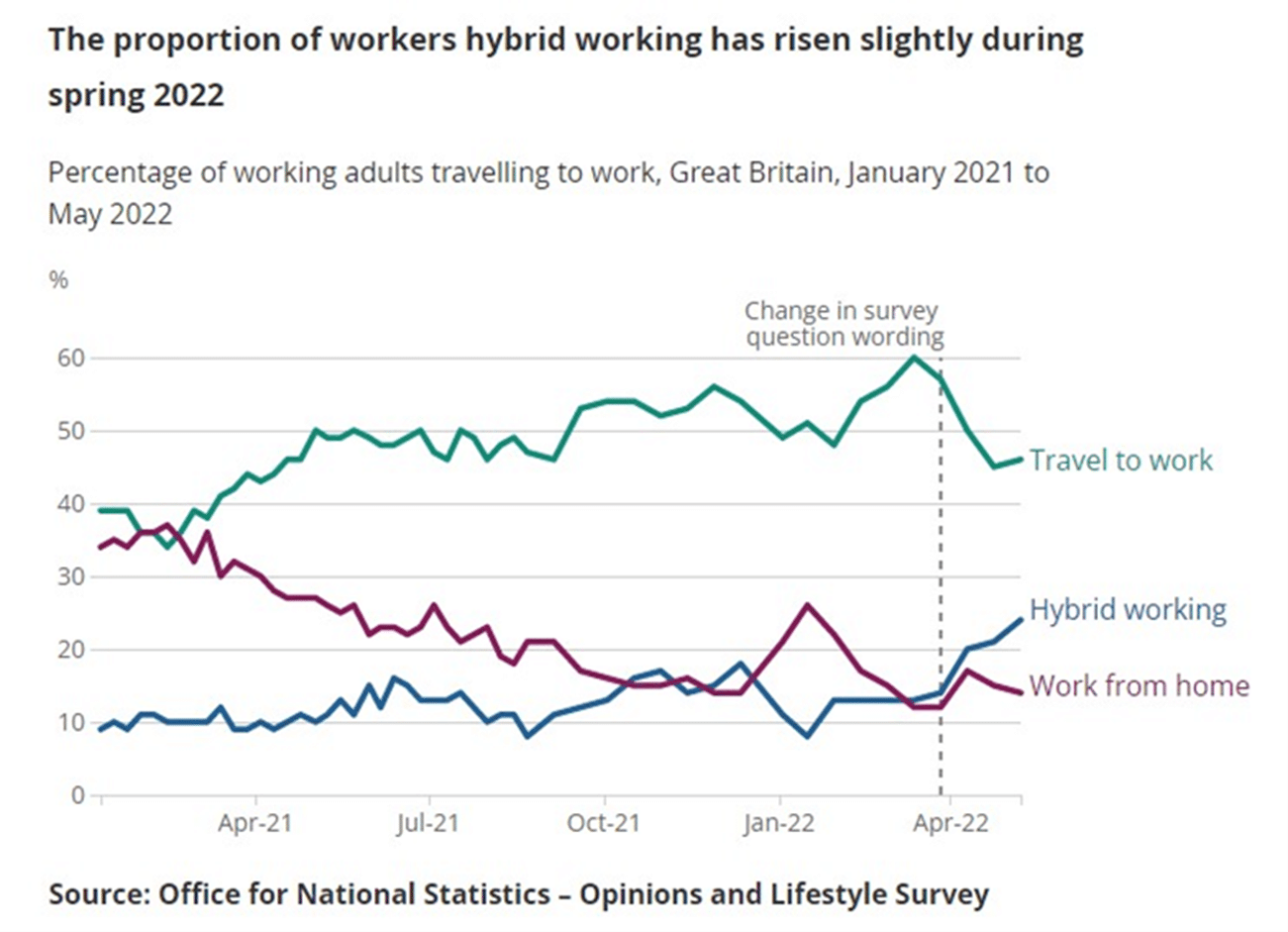 During the early days of lockdown, many employees worldwide were working from home (where they were able to). Even though the official advice to work from home in the UK no longer applies, many employers are still not making it mandatory for their employees to go into the office each day.
Instead, working patterns have developed into what has come to be known as hybrid working.
Hybrid working involves a combination of working from home and working in the office, which has benefits both for the employer and the employee. 
So what are the benefits of hybrid working?
After the compulsory working from home experience, many employees are enjoying some form of hybrid working. Whether it is: 
3 days in the office and 2 at home

 

2 in the office and 3 at home

1 day in the office and 4 at home

 

Or any other arrangement.

Employees feel that, over the pandemic, they have proved that hybrid working can be productive. From an employer's perspective, it can be a cost-saving solution for their office costs, a greener way to work with travel being reduced, and a way to improve the wellbeing of employees. 
There are three key benefits of hybrid working for employers: 
Most employees prefer hybrid working. By giving employees what they want, employers are creating a positive working environment.

 
Happy employees are likely to be more productive. If hybrid working makes employees happier, then employers will benefit.

 

Hybrid working can reduce the amount of office space required – minimising office costs and utility bills.

 
Hybrid working considerations 
Meetings 
Video conferencing platforms can be a challenge.  Employees have been reporting issues with Zoom/Teams fatigue and the tendency to be stuck sitting at your computer for longer hours. Both employers and employees need to ensure that there is enough time outside of meetings to complete tasks, as well as walk away from the screen. 
Inequality 
People's set up at home can be challenging, whether that's to do with space limitations or having children around. Internet speed can also be an issue. Employers need to ensure their workers have the right environment to perform their jobs.  
Fairness of treatment
With hybrid working, managers should be particularly careful to ensure they give all employees equal access to work, support and opportunities for training, development, and promotion, wherever they are located and however they work. Out of sight shouldn't mean out of mind, so check in with your employees regularly. 
Recruitment and training
Hybrid working may require some re-thinking of recruitment, onboarding, and training processes. Indeed, there are some roles, such as software developers, where employees are actively seeking full remote working, so you need to consider whether you are missing out on talent. 
Software and Hosting for Remote Workers 
Making sure your employees can access the data, CRM, ERP, and other systems they might need for their day-to-day work is essential for remote workers. If you have systems they cannot access, remote working is not going to be effective. Implementing a virtual desktop can be a game changer.
Luckily, Cloud computing means remote workers can access central storage, databases, networking, and software via the internet – as opposed to these services being available from a server room at the office. Company systems can be accessed via a public Cloud, or more preferable to most companies – a private Cloud. At Avrion we can help you with your hosting needs – you might also find our blog on 'What is hosting and how do the options differ?' useful.
Benefits of hybrid working for your business – what should you do next?
Now may be the time, if you have been planning to finally move away from spreadsheets which multiple people update, to move to a CRM. CRM is a central database that everyone can access, whether at the office or at home – ensuring your leads', prospects' and customers' details are available to the whole team for transparency, and for efficiency when team members are off sick or on holidays.
Further information
Talk to us at Avrion about ways we can make hybrid working work best for you and your business. Simply contact us here, or enquire on one of the following: