As with all software, Maximizer regularly release updates, adding new features and fixing issues raised. The latest release – Maximizer CRM 2022 R1 – builds on the previously introduced Interactions functionality. 
Key dates 
Maximizer CRM 2022 R1 was released to customers on the North America Cloud platform on 25th May.  
The EMEA Cloud is scheduled to be upgraded on 1st June starting with new customers and trials. The remaining customers (those with existing data to convert and/or customisations and integrations) will be upgraded with the anticipated completion date being 17th June. 
The update is scheduled to be available for On-Premise customers on 6th July (subject to change).
So, what exciting enhancements does the Maximizer CRM 2022 R1 update include? 
Interactions
What are interactions? Interactions are communications or exchanges of information between a company representative and an existing customer or prospect. This could be an account review or initial contact following a marketing campaign, such as an exhibition. It could also be an incoming phone call or live chat from your website. Interactions can occur at Address Book, Opportunity, Customer Service Case or Lead level. 
Maximizer CRM classifies the following as interactions: 
| Communication Type | Manually Entered (copy and pasted from the source) | Automatically Recorded |
| --- | --- | --- |
| Phone calls | | Y |
| Emails | | Y |
| In-person meetings | Y | |
| Chats | Y | |
| Texts | Y | |
| Social media messages | Y | |
| Tasks | | Y |
| Appointments | | Y |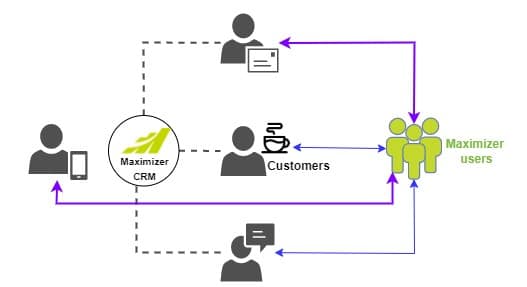 Background
Historically, Maximizer CRM split communications into Notes, Documents (which included emails), Activities and History. 
Interactions were first released in the version 2021 R3, however it still needed further work to fully replace the legacy History functionality. 
The idea behind the new Interactions functionality is as follows: 
| Interactions | Notes | Documents |
| --- | --- | --- |
| Track and report all types of interactions | Track important notes, for example a customer's system requirements | Save important files, for example contracts and agreements |
Further information
Want to know more about interactions and the how to make the best use of them? Contact Us for hints & tips and watch out for videos coming soon on our YouTube channel.