Most companies have moved to flexible working where their workforce can be fully remote, always in the office or somewhere in the middle. A hosted desktop enables your workforce to take the office with them wherever they are and pick up where they left off.
A hosted desktop enables users to access their desktop and applications from anywhere, on any kind of device. IT organisations can deploy and manage these desktops from a centrally located data centre.
vDeskOnline is a Citrix hosted desktop solution that we particularly recommend because it is highly customisable. You can choose any number of hosted servers and hosted desktops with any combination of hard drive storage, memory and CPU.
VDeskOnline: The benefits
The main benefits you get with vDeskOnline are:
Minimal fuss when adding or removing hosted desktops/servers.
Server/desktop storage, memory and/or processors can be increased within 5 minutes, without engineer call-outs.
True Active Directory User and Computers (ADUC) with different levels of security privileges & access.
Standard Windows Server environment configuration with any number of network shares and disk quotas.
Implementation of Group Policy managing all the hosted desktops, keeping everything to a standard.
Installation of any Windows server/desktop-based software, including databases and other server-related software.
Print to all your office network printers, even when you're out of the office.
Full customisation of how the hosted desktops function, disabling external access, like portable drives.
Remote backup of all data held on the server without the need for local backup tape rotations.
Everything runs over the internet using very high encryption for total security.


vDeskOnline combines DaaS (desktop as a server), VPS (hosted private servers), Hosted Services and more for a complete hosted office experience for any type or size of business.
How does the vDeskOnline Hosted Desktop actually work?
Just imagine you have any number of servers, desktops, laptops in your office. We simply move the whole IT infrastructure to the Cloud and your systems can be accessed from any device that has an internet connection and supports Citrix. vDeskOnline is ideal for companies of any size, but is especially good for companies with multiple offices.
vDeskOnline: The security, cost and efficiency advantages
There are many advantages of moving to the Cloud using vDeskOnline. The only requirement is an internet connection and any internet enabled device to connect to the hosted desktop. vDeskOnline uses Citrix XenDesktop & XenApp technology; the leading hosted desktop solution.
All data is held off site, reducing the risks associated with fire and theft.
Reduce your carbon footprint by going green, you can considerably reduce the electricity bill with the introduction of Thin Client devices.
vDeskOnline is scalable and upgradable with ease and minimum effort.
Engineering call-outs are reduced as everything can be upgraded remotely.
No need to buy new equipment as all existing equipment can be used as "dumb" terminals (very simple monitors with very little processing power and features).
No major expense having to maintain / upgrade / replace existing servers.
Easily upgrade to the latest operating systems in future.
Full support for Active Directory, Group Policies and XenDesktop policies.
Increase your security by using XenDesktop policies to restrict USB and local storage access to transferring data from vDeskOnline.
Use any internet enabled device to run your hosted desktop including Windows, MAC OSX, iPads, and Android devices.
Your data can be accessed anywhere, anytime, unless specified.
All these features are offered via secure SSL AES 256 encryption.
What else can you include with the vDeskOnline package?
vDeskOnline is totally customisable as you can run any third party software on your hosted server and hosted desktop, as long as the software you want to use is Windows compatible. You can also sign up to other companies for other services like email, Teams, Dropbox, OneDrive, Office 365 and more. There are no limits or restrictions.
Minimum setup includes 1 hosted server and any number of hosted desktops depending on the number of staff requiring a hosted desktop. From then on, everything works as a bolt-on scheme. You could:
Ask for more storage for the hosted server and/or desktop.
Increase/decrease resources like memory and CPU as and when required.
Choose to install your own copy of Microsoft Office, or pay a minimal fee per month and we will supply a copy of Microsoft Office to be installed on your hosted desktops.
Sign up to use our Hosted Services, like Hosted Exchange, or choose to sign up with another company for emails.
Take on-going support to manage the hosted desktops, appoint a third party IT company to provide support, or simply keep this in-house.


We work with you to build the most suitable solution for your business.
vDeskOnline Hosted Desktop migration: it's easy peasy
vDeskOnline works for new business start-ups, as well as established businesses of any size wanting to move to the Cloud. It's important to us to ensure little to no downtime when everything has been migrated across.
We also keep disruptions to a minimum when reviewing your current setup and requirements to put together a plan of action to get you up and running.
We:
Build a vDeskOnline environment to your business specification.
Liaise with third party companies for any third party software that needs to be migrated.
Create all user accounts with various security privileges.
Install all the relevant business software on the hosted servers and hosted desktops.
Configure network share and printing capabilities to your specification.
Provide onsite/remote training before the go-live date, and distribute user guides.


We can also:
Decommission the old kit and prep\demote the existing user devices like desktops, laptops and Macs to work with vDeskOnline.
Provide any additional support and services like Hosted Exchange, Lync, NextCloud and more.
Put in place on-going end-user support for vDeskOnline.


The image below shows vDeskOnline's infrastructure and backup provisioning: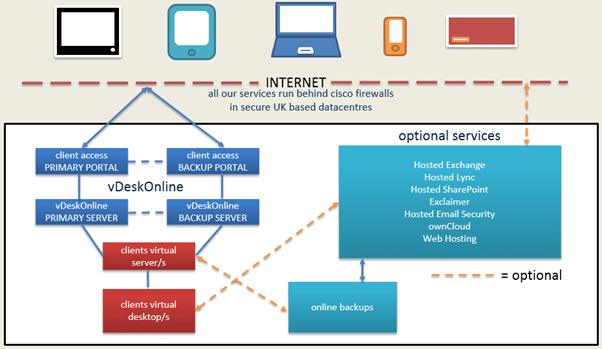 If you think your business would benefit from the vDeskOnline Hosted Desktop, talk to us about your business requirements and find the perfect package for you.