The Great British Expos have been running exhibitions across the UK for over 10 years, and have welcomed over 55,000 SMEs to their events. With seven major exhibitions nationwide, no other company can match their geographic coverage. Maximizer was a proud sponsor of The Great British Expos for almost a decade before the pandemic.
Collaborating with their top UK partner, Avrion, Maximizer is back as an industry pioneer with the new Sales Leader Edition, alongside the existing, longstanding CRM that has been around for more than three decades.
What Iain Black, President & CEO of Maximizer, has to say about Sales Leader Edition
"We've been assisting companies to grow and develop their customer base for more than 30 years. Think about that number. When you think about the tech sector, that's elite staying power."
What Maximizer has done in the last three years, since Iain Black joined the company, is continue its constant evaluating and evolving of internal operations with its many existing customers, but also lead the company through a comprehensive process, looking at the CRM landscape as it is, and seeing where Maximizer could become more relevant and transformational.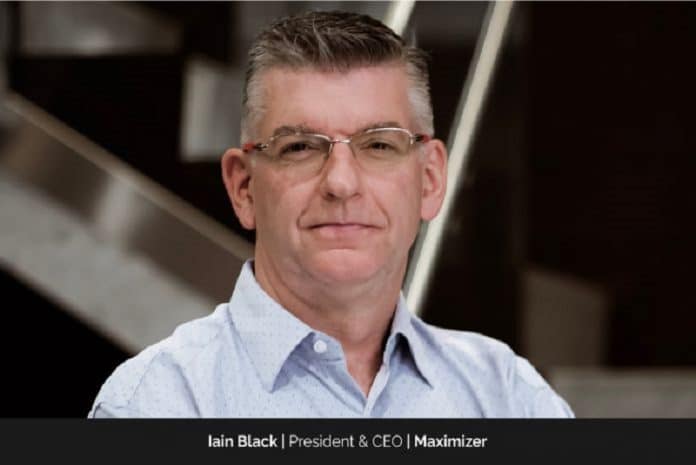 Maximizer was one of the first contact management systems (CMS) that evolved into sales force automation (SFA) to become one of the earliest CRM systems back when there were few on the market. As Iain says,
"Essentially, we were in the CRM business before CRM was a thing. Our company has both evolved through – and helped lead – profound changes in customer expectations."
But the business is by no means stuck in the olden days. Today, most customers onboard Maximizer in a SaaS (Cloud) environment, leveraging Microsoft's global Azure network to ensure the performance, data sovereignty, security, and reliability expected in 2023 – along with a complimentary mobile application for iOS and Android. Black also realised that Maximizer was in a unique position in the market place, as it does not require excessive licence fees as other competitors demand, and is flexible for personalisation, as well as seeing a new angle that they could work with back at the basic level of what everyone needs for a business to succeed – SALES.
"If you're not selling more, the rest doesn't matter," says Black. "All the fancy metrics, dashboards, and analysis are irrelevant if the money you spent on a CRM system isn't driving more revenue. Maximizer is not just an information tool, it's a 'making you money' tool."
The 2023 new product strategy reflects how Maximizer recognises two crucial things that every sales leader also knows:
Being responsible for a team's sales success can be very stressful.
Success boils down to people, salespeople.


So, the renewed focus of Maximizer is on human behaviour, and using specifically designed CRM technology to help two identifiable roles in business. Firstly, to help revenue leaders measure it, assess it, drive it, and then measure it again. So, every Sales Leader, Sales Manager, Sales Director will be able to use this new product version in a very specific way to create impact on their sales people, their sales teams, and the sales income.
The new Sales Leader Edition from Maximizer is going to be a game changer for them.
The second role Maximizer will be tackling next is that of the "anxious SME Renewals Manager", responsible for repeat, recurring, or contractually renewing revenue, who is worried over the likelihood of customers continuing to do business with them, while simultaneously unarmed with the analysis as to where to focus or what to do. 
What Avrion – a Maximizer elite partner – can bring to the fundamentals of Maximizer CRM and the new Sales Leader Edition is a specific talent in helping customers evolve CRM and digital transformational strategies, so their solutions can continue to be relevant and valuable long term. Avrion also looks for ways to integrate with other key databases, whether they are financial, operational, or involve the creation of portals – whatever it takes to join up technologies for a streamlined, more cost-efficient, and faster way to get things done.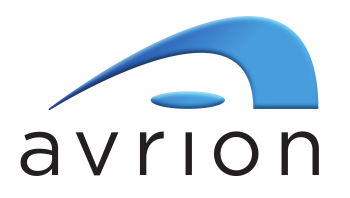 If your business systems and processes need to function more efficiently, effectively, and coherently – but you're not sure what configuration improvements or customisations to adopt so that your solution works better for you – then talk to us. We will take the time to understand what your challenges are and how to move forward. You can be a small, medium, or big company, and you can operate in any industry sector. Whatever it is, we can help you improve your business processes.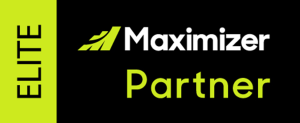 We are called "partner" for a reason – we work alongside you. Even when your solution is established, we will continue to suggest the best way to continually improve how you work.
Working with Maximizer and Avrion is one of the best ways to make an impact on your business improvement plan for 2023. Make sure you come and say hello.
If you're looking for a technology partner to support you in your digital transformation journey, please contact us. We'll be able to discuss your goals and challenges, and offer our expert advice as to the best path for your business.