The theme for 2023 is "Skills for Life" to reflect how apprenticeships don't just provide qualifications but equip the apprentice with the skills and knowledge required for a rewarding career. Additionally, the apprentice's company gains a talented workforce, equipped with future-ready skills.
Why is Avrion championing National Apprenticeship Week?
Avrion is extremely proud to have taken two apprentices under their wing, one each in the development and marketing teams. We have produced several blog articles which explore our experience with mentoring apprentices and developing their work experience. However, this time we wanted to share from the perspective of an apprentice, so that's what I'm here to do.
What are the benefits of an apprenticeship?
Before I delve into my experience as an apprentice with Firebrand (an apprenticeship course provider), let's take a look at some of the benefits that you could gain by completing an apprenticeship yourself – it is National Apprenticeship Week after all.
No university debt.
Practical employment experience.

Improve your confidence in a work environment.

Achieve recognised and respected qualifications to build your CV.

Earn a wage and receive paid holidays.

Use a student discount on restaurants, gym memberships, clothing websites, and more.

Receive on-going support from learning mentors and managers.
Develop skills in topics you might not have thought of before.

Gain independence.

Boost your social skills.
You can also check out this blog for even more benefits of apprenticeships.
Why choose a Digital Marketing Apprenticeship?
I've always been interested in digital marketing as I have been an active social media content creator since I was a young teenager. Growing up with the evolution of social media with new digital marketing landscapes constantly being introduced, my knowledge of the field grew through experience. Therefore, I was very interested in enhancing my understanding of the subject and putting it into practice through a career. That's what made this apprenticeship perfect for me. 
Read our blog for a more detailed understanding of a Digital Marketing Apprenticeship. 
Why I chose an apprenticeship
Before I started the apprenticeship, I was in a difficult place mentally and financially. Countless interviews and rejections later, I became overwhelmed. When the Director at Avrion, Jonathan Wilkins, approached me with an apprenticeship opportunity, I was, and remain, extremely grateful. 
Having always planned to go to university, but unfortunate circumstances interfering with those goals, the apprenticeship gave me a chance to be a student and an employee. Learning and completing projects, while avoiding mountains of debt with a steady wage.
My apprenticeship experience
Although the fundamentals of the apprenticeship are the same for each student, the apprenticeship experience can be personalised. For my particular experience, 6.5 hours of on-the-job training was obligatory. However, the management of these hours can be manipulated to the learner's personal preference, if the employer offers flexible working.
Some students may favour four full days of employment work and one full day dedicated to apprenticeship work. However, other students might prefer to disperse these hours throughout their working week.
As my job role consists heavily of social media usage, I opted to complete my studying at the start of each working day by distributing my hours throughout the week. Social media is an unprecedented network that requires constant reactivity. Therefore, spending an entire day completing apprenticeship work did not seem appropriate for my specific situation. The apprenticeship provides each learner with the independence to establish a flexible work/study routine that works for them.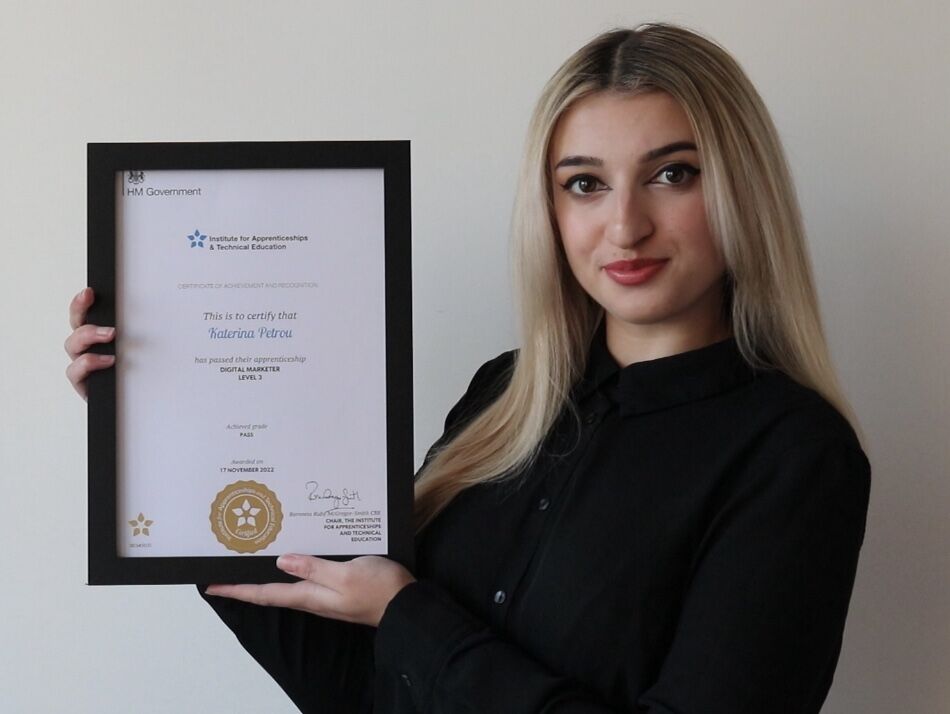 My Digital Marketer Apprenticeship certificate
Another key aspect of an apprenticeship that I found most helpful was the regularity of meetings with my learning mentor, Andrew Rafter. Multiple projects and courses required completion during the apprenticeship. Therefore, attending habitual video calls with my learning mentor granted me the advantage of seeking assistance when needed. Moreover, I was able to clarify my understanding on topics I struggled with – as well as receive constant feedback on my progress. 
Why I recommend an apprenticeship
Other than the qualification that you receive after completing the apprenticeship, there are several additional certificates that can be achieved throughout the 18 months. Not only do these supplementary skills advance your competency and knowledge within the workplace, but they also build up your CV and appear attractive to an employer.
My favourite part of the entire apprenticeship process was the face-to-face (in centre) training at The Willows Training Centre. At the beginning of my apprenticeship, I encountered a difficult phase of my life. Interactions that involved leaving the house and meeting new people were a major struggle for me. Due to this daunting task, I avoided visiting Wyboston for my first (of two) face-to-face course. For anyone in a similar situation, remote training is also provided.
Fast forward a few months, I felt more socially confident to visit the centre and experience face-to-face training. Free accommodation, meals, and learning resources were provided. As well as attractive aesthetics and stunning surroundings, there is a bar and a gaming room where I spent my lunch socialising. By encouraging myself to visit the centre, I made fantastic friends and gained more independence and social confidence.
Since we're celebrating National Apprenticeship Week, if you would like to receive more information on apprenticeships, or guidance from an experienced apprenticeship mentor, such as Caroline Robertson, please contact us.