What is CANDDi?
CANDDi is a tool that identifies the individuals and companies who are visiting your website.
Since 98% of your website visitors will leave without ever getting in touch, identifying these missed opportunities so you can get in touch directly is a fantastic way to plug holes in your pipeline and ultimately boost sales.
The interesting thing about CANDDi? Whereas most visitor tracking tools only reveal your visitor's company, CANDDi can drill down to the individual.
Each visitor to your website will have a profile within CANDDi which updates their identity, company information, location, and activity on your website in real-time.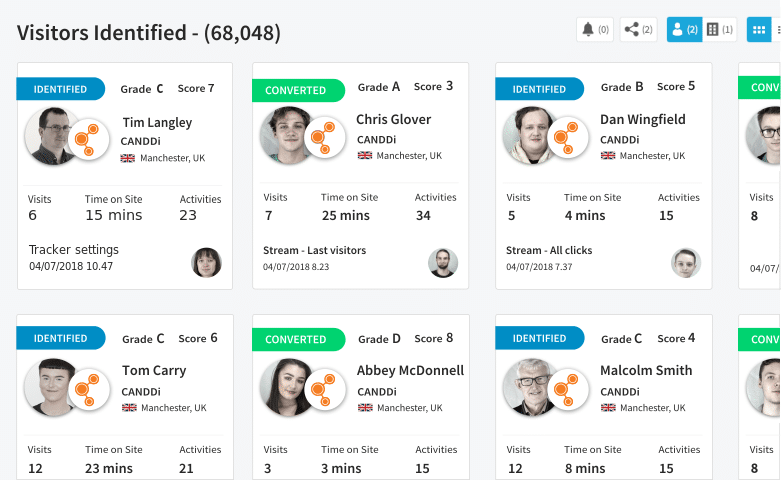 How does the CANDDi tool work, and is it GDPR compliant?
The CANDDi tool is 100% GDPR compliant, and the reason for that lies in how exactly it gathers information about your website visitors.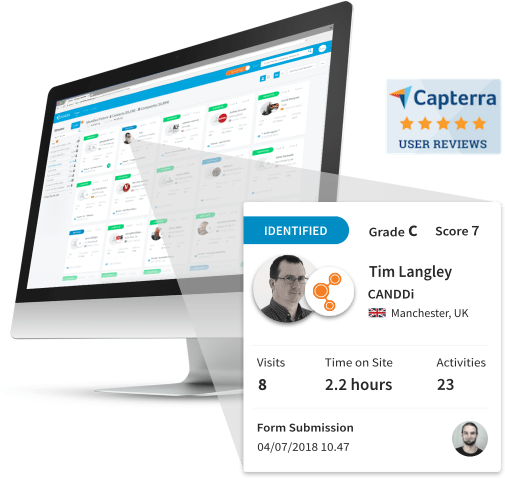 CANDDi uses two main technologies:
Reverse IP Lookup
A reverse IP lookup allows CANDDi to identify which company a visitor is browsing from by checking their IP address. When able to match a company to a visitor, their profile will also be populated by related company information such as headcount, location, and contact information.
Cookie Tracking
To identify individuals, we drop a first-party tracking cookie on every device that lands on your website. Then, we integrate with your digital touchpoints so we can apply the correct identities (e.g. John Smith from SmithCorp) to these devices where possible.
It's important to note that CANDDi is not pulling information about your website visitors from thin air. In order to identify someone at the individual level, they must complete some kind of identifying action. You can read more about how this works here.
How does the CANDDi tool integrate with Maximizer?
CANDDi uses a simple Google Chrome extension to integrate with Maximizer CRM.
Once set up, you'll be able to see everything CANDDi knows about your prospects, right within your CRM. Pull up one of your leads in Maximizer, and you'll have a CANDDi widget displaying their known information, as well as a real-time activity log of every action they've taken on your website.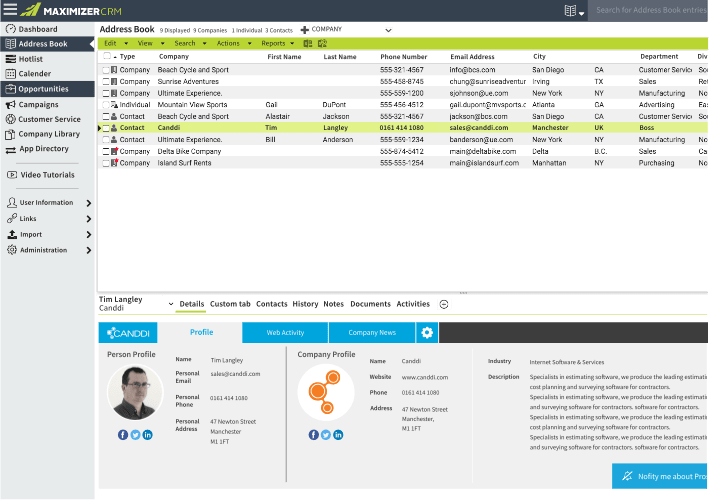 It makes a very powerful addition to your sales process; imagine, right before you pick up the phone to contact a prospect, you're able to see at a glance the specific web pages they've looked at in the past week. You'd know exactly what to focus on during your sales pitch!
Start a one-month free trial of CANDDi today
CANDDi's free trial gives you unlimited access to the tool for an entire month, which gives you more than enough time to evaluate the data it provides.
There's absolutely no obligation with the trial and you can cancel it at any time. You'll even be able to book an onboarding call with CANDDi's success team, allowing you to get to grips with the system fast and see value as soon as possible!
To get started, simply sign up to the free trial here.
Further information
If you'd like to find out more about CANDDi, visit our CANDDi page or contact us on one of the following: