What is an Apprenticeship?
Gov.uk states:
Apprenticeships combine practical training in a job with study.
As an apprentice you'll:
Be an employee earning a wage and getting holiday pay
Work alongside experienced staff
Gain job-specific skills
Get time for training and study related to your role (at least 20% of your normal working hours).
Apprenticeships take 1 to 5 years to complete depending on their level.
How does an Apprenticeship Work?
Who is eligible for an apprenticeship?
To be eligible for funding, all candidates must:
Be over 16 at the start of their programme (there's no maximum age limit!)
Be living in England
Ideally, not already have any qualifications or skills that would be gained through this programme.
Achieve the required level in English and Maths diagnostic tests.

Who funds the Apprenticeship?
The apprentice pays nothing providing they are eligible (see above).
The Government will pay an approved training provider 95% of the training cost.
The Employer pays the remaining 5% and is also responsible for paying at least the minimum wage to the apprentice. They must also allow 20% of the apprentice's time to be spent on their apprenticeship coursework/training.
Apprenticeships are suitable for anyone new to your organisation, existing staff moving into new roles or current staff wanting a structured skills development plan.
What is involved in a Level 4 Software Developer Apprenticeship?
Duration: 16 months
Funding Cap: £18,000
Typical Jobs: Web Developer, Application developer, Mobile App developer, Games developer, Software Developer.
Qualifications achieved through this programme:
Level 4 Software Developer Apprenticeship Standard (national qualification)
Certification in a programming language, e.g. C#, Java or HTML5 (international qualification)
BCS Level 4 Diploma in Software Development Methodologies (national qualification)
Training for up to two additional global certifications (certification exam at additional cost).
For more details see Firebrand's Level 4 Software Developer Apprenticeship.
What happens at the end of an Apprenticeship?
In an ideal world, at the end of your apprenticeship, you will be offered a job. Organisations, like Avrion, recognise the benefits of training the apprentice on the products and services that make us unique. However, it is a two-way street, the organisation has to recognise the apprentice as a good fit – as well as the apprentice wanting to continue their career with their current employer.
If the apprentice/employer part ways, then the apprentice has a recognised qualification, 1-5 years of work experience and hopefully a good reference to boot!
Avrion Celebrates its first apprentice passing with flying colours!
James Richards joined Avrion in January 2021 as part of our plan to give back to the community through providing an apprenticeship placement for a Level 4 Software Developer.
In May 2022, James successfully completed his apprenticeship.
James is pictured here with his Mentor, Caroline Robertson.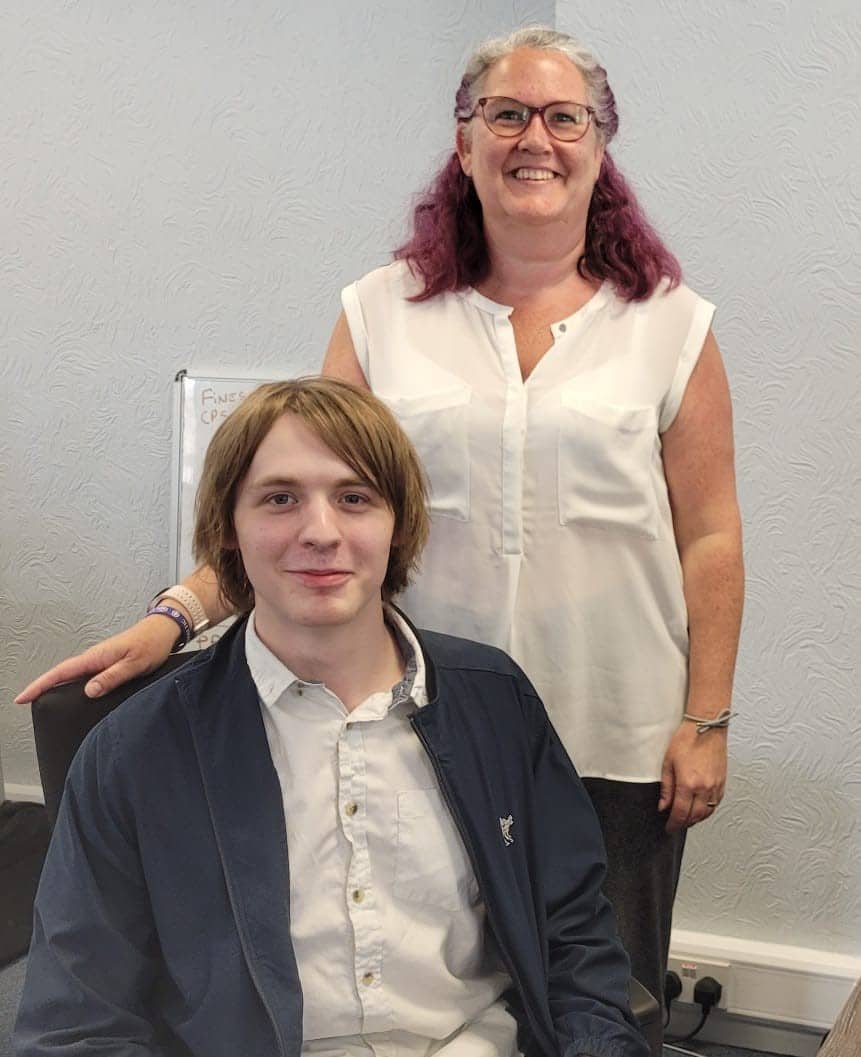 Caroline Robertson – Apprentice Manager, Avrion – "I am extremely proud of how hard James has worked throughout his apprenticeship. He managed to juggle his apprenticeship workload with his Avrion workload with very little intervention. James should also be commended on the fact that he joined us during the pandemic and was working from home for quite a while before our hybrid working initiative – that can't have been easy."
Shane Rossouw – Learning Mentor, Firebrand – "James was a dedicated and committed apprentice. The work he produced for us was of a high-quality standard, due to his eagerness to learn and progress. His in-work mentors at Avrion were super supportive, which makes a big difference to any apprentice's experience. These are the work mentors I love to work with, caring and supporting their apprentices. I enjoyed my role as James' learning mentor on behalf of Firebrand as he made my job easy by providing what was required in a timely fashion. I wish James all the best in his career now that he has achieved his Level 4 apprenticeship through Firebrand in only 13 months. Well done."
James Richards – Software Developer Apprentice, Avrion – "It's so informative to learn from the business side, and directly from customers, what their challenges are and how the software can help to improve their business processes and hence their profitability. There is nothing that can replace the knowledge of coding for real jobs and seeing how technology can provide improvements in a real-life situation."
Further information
With university now costing up to £9,250 (plus accommodation and living costs), apprenticeships are a fantastic way to earn while you learn – with the added benefit of gaining work experience in the process.
If you are considering an apprenticeship, I'd be more than happy to answer any questions you have.
On the flip side, if you are considering hiring a digital marketing or software developer apprentice, I have lots of tips to give you.
My question would be, why wouldn't you undertake an apprenticeship?