As we navigate our way through the digital landscape, with multiple systems being added to our work processes, sometimes we end up with convoluted procedures that not only waste valuable time, but actually create data errors, extra workload, use out of date pricing and ultimately incorrect addresses for deliveries or invoicing. A Data Warehouse is the solution.
A Data Warehouse is a storage area in a central location for all of your business information and data.
This data mainly comes from business software systems throughout your organisation and is automatically passed into the Data Warehouse in a timely and consistent manner.
Some of this data undergoes transformation in order to create a consistent set of information.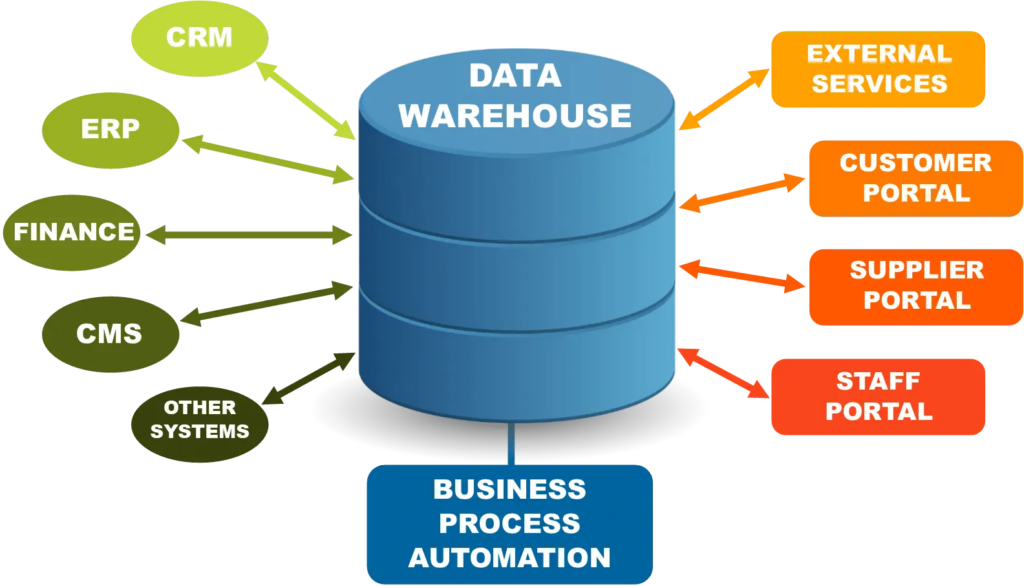 Why use a Data Warehouse?
Ask yourself this question –
is your data inconsistent between your systems?
This is the beginning, the middle and the end of it. If you have to consolidate data for reports, view historic data from different systems, re-enter information more than once, then you are already on the back foot.
Using a Data Warehouse brings many benefits, no matter the size of your company. It can also be set up quickly and cost effectively, driven by what your business actually needs. Benefits include:
It enables various systems to integrate, sharing data between all business applications and facilitates communication between staff, customers and suppliers.
Public-facing portals can also be implemented, seamlessly sharing information between your business and external entities facilitating a joined up approach, helping you to streamline communication as an end-to-end process.
It also means you can automate your business processes using data held across your systems, removing manual work when completing data-driven tasks.
It gives you control of your data and business processes in one central and secure place.
You can report across multiple data sets and join this information together, helping you make better informed decisions.
It helps you monitor changes to your data and act upon it.
It supports GDPR-compliance by knowing all the information about your contacts.
Benefits are realised quickly, returning instant value back to your business at a low investment point.
Consuming Information in the Data Warehouse
As well as ensuring that utopia of a
360-degree view
of your prospects, customers and suppliers by connecting your business systems, adding a Business Intelligence (BI) solution can deliver crucial business insights.
Think of a Data Warehouse as the 'brain' of the solution
and use it to deliver data to your BI platform.
Do more of what you do well. For example: identify your customers' spending trends, your top geographical regions, your most successful account managers so you can focus on the areas where you have the most success.

Head off problems before they manifest themselves. Use the joined-up data to carry out risk assessments so that proactive processes can be put in place to prevent an issue from happening in the first place.
Be confident in your decisions. Empower the leaders in your business to safely make informed decisions based on highly accurate information.
Some systems have built-in BI but are sometimes limited to data held within that particular database. Enterprise BI solutions, such as Microsoft Power BI, enable companies to view and report on their data using interactive and graphical tools.
A Data Warehouse could be a fundamental step in your digitalisation journey, supporting your business as it evolves and adapts to competition in this digital age. Talk to us about data warehouses and how we can help streamline your business.