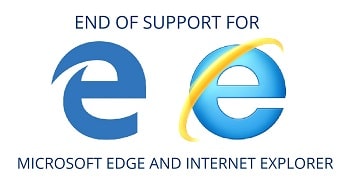 Microsoft has confirmed end of support for legacy Edge and Internet Explorer 11. Microsoft will stop supporting Internet Explorer 11 (IE11) as early as 30 November 2020, while the remaining Microsoft 365 apps and services will no longer support the browser starting 17 August 2021.
According to Forbes, "Microsoft's new Edge browser has surged in popularity since its launch in January this year, reaching number two position behind Google's Chrome. Now, Microsoft has confirmed it will end support for the old version of Edge—meaning it will not receive any more security updates—on 9 March 2021."
Browser users will fall into 2 categories:
those that accept the upgrades pushed out via updates and
those that stick with the browser they know
The good news is that new browser will make it even easier to import your bookmarks/ favourites quickly and easily.
What does end of support for legacy Edge and Internet Explorer 11 mean for you?
If your company has an IT function (internal or external), then you should have already upgraded your browsers as part of your IT plan. This will ensure you remain on supported versions.
However, there may be reasons why you've chosen to stay on an older browser. For example, if you haven't upgraded your financial, CRM or any other system, which requires IE11 because it isn't compatible with a newer browser. You should start planning your upgrade now to ensure you are ready by Microsoft's deadline.
Potential risks of using Internet Explorer 11 and legacy Edge after the end of support dates
Microsoft notes the following risks:
Security Risk
Without critical browser security updates, your PC may become vulnerable to harmful viruses, spyware, and other malicious software which can steal or damage your business data and information.
Compliance Risk
If your business is governed by regulatory obligations, such as HIPAA, then you should conduct due diligence to assess whether you are still able to satisfy compliance requirements using unsupported software.
Support Risk
Many Independent Software Vendors (ISVs) no longer support older versions of Internet Explorer. For example, Microsoft 365 takes advantage of modern web standards and runs best with the latest browser, Microsoft Edge.
How does this affect Maximizer CRM users?
Currently, when setting up mail merge templates using Maximizer's integration with Word, this must be done in IE11. The Maximizer Development Team is planning on eliminating the dependency for IE11 with its 2021 Release 1 update.
If you have any questions, give us a call on +44 (0)1992 661244 or email us at enquiries@avrion.co.uk